What's Science Got to Do With It?
Appropriate for grades 6-12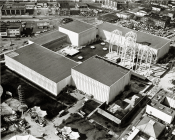 Students will learn about the historical framework, technological methods, and actual events presented at the U.S. Science Pavilion at the fair, and use these to analyze the relationship of the international space-race to the fair and public sentiment.
Download:
Curriculum
Unit 9 Motion Picture Analysis Worksheet
Unit 9 Photo Analysis Worksheet
Unit 9 Written Document Analysis Worksheet
Resources:
ColdWar&SpaceExploration-Timeline.pdf
ListOfExhibitsUSScience-Center1962.pdf
Unit9_Cut-AwayDetail1962-ScienceCenter.pdf
Unit9_NarrationTrack_House-OfScience.pdf
Unit9_READING_AlistairCooke-AccountOfScienceExhibit.pdf
Unit9_MakingA1962DocumentaryMovie.pdf
Unit9_TheUSSciencePavilion.pdf
---
The Imagine curriculum is a project of The Next Fifty and was made possible with funding from the Seattle Center Foundation and 4Culture. Additional in-kind support was provided by KCTS 9, HistoryLink, The Seattle Times Newspapers In Education, Jack Straw Productions, the National Archives and Records Administration (NARA), the Museum of History & Industry, the Seattle Architectural Foundation, Bellevue Public Schools, Seattle Public Schools, and the Edmonds School District.