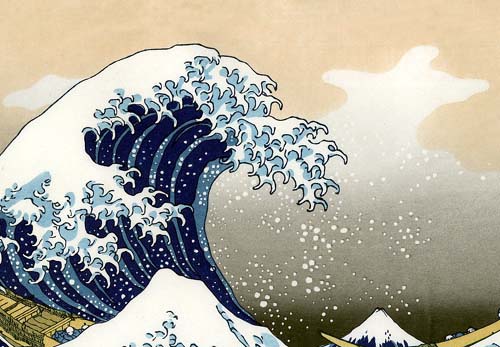 Eruption Repercussion
The recent eruption of the Hunga Tonga-Hunga Ha'apai volcano in the South Pacific showed us how such explosive tectonic events can affect places far from their point of origin. Soon after the volcano erupted near Tonga, a tsunami advisory went into effect for Alaska and the U.S. Pacific Coast. Waves caused minor damage in Southern California, and although Washington was spared, there was a noticeable ocean surge out on the coast.
Another example of the far-reaching effects of localized catastrophes occurred on January 26, 1700, when a massive earthquake struck the Pacific Northwest and sent racing across the Pacific Ocean a tsunami that slammed into Japan. Scribes there recorded the wave, making the earthquake that caused it the earliest documented historical event in Western Washington. It is estimated that the temblor registered at least 9.2 on the modern Richter Scale, making it the region's most powerful known earthquake ... so far.
And let's not overlook our own volcanoes. Fifteen minutes after Mount St. Helens erupted in May 1980, its ash plume reached 15 miles into the sky. It was blown eastward, and in little more than an hour Yakima was plunged into darkness. The cloud continued moving east, dumping ash everywhere. Travelers were forced off the highways, which caused tremendous problems in Ritzville, more than 200 miles from the volcano. The ash cloud reached the East Coast three days later, and within 15 days it had circumnavigated the world.
Battle in Seattle
On the morning of January 26, 1856, an estimated 1,000 Salish warriors came over the ridge of First Hill and attacked the tiny village of Seattle at present-day Pioneer Square. The settlers returned the Native fire during the skirmish, reinforced by marines and a howitzer from the U.S.S. Decatur, anchored in Elliott Bay. Sporadic gun volleys continued until 10 o'clock that night, when the attackers retreated. They left behind two dead settlers, but none of their own -- not even a trace of blood.
Rising tensions had led to bloody acts by both newcomers and Natives before the "Battle of Seattle," but the attack marked the climax of active resistance led by Nisqually Chief Leschi and other tribal leaders against the Indian treaties dictated and imposed by Territorial Governor Isaac Stevens in late 1854 and 1855.
Chief Leschi was eventually captured, and his half-brother Quiemuth surrendered soon after. Quiemuth was murdered by persons unknown while sleeping at the Olympia mansion of Governor Stevens, and Leschi was hanged in 1858, over the protests of many pioneers. It wasn't until 2004 that Leschi was finally exonerated by a specially convened state historical court.