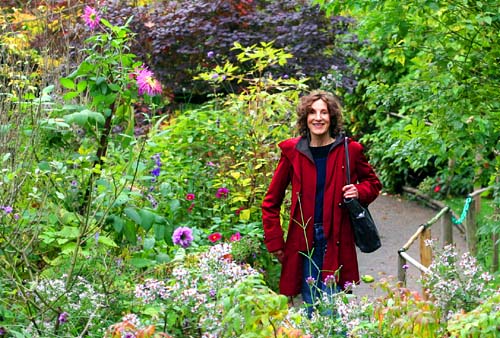 Farewell, Cassandra
We here at HistoryLink are greatly saddened by the death of our dear friend Cassandra Tate, who we have had the pleasure of working with for more than 20 years. We are truly going to miss her joy, her sparkling wit, her passion for researching and writing history, and -- most of all -- the kind and peaceful friendship she shared with us all.
Cassandra was born in Idaho but grew up in Seattle, where she developed an interest in journalism. After spending a year at UW, she headed out on her own and worked as a reporter for various newspapers in Idaho and Nevada, where she met her husband, Glenn Drosendahl. After receiving a year-long Nieman Fellowship at Harvard, she returned to Seattle with Glenn and their daughter, Linnea, and worked at several local newspapers before returning to UW to get a Ph.D. at age 50. She turned her doctoral dissertation into her first book, Cigarette Wars: Triumph of "The Little White Slaver," published by Oxford University Press in 1999.
In 1998 Cassandra became one of the first members of our writing team, and she wrote several essays in preparation for our launch. Over the years since, she wrote 217 essays for HistoryLink on such topics as gold rushes, the Bonneville Power Administration, the Seattle Post-Intelligencer, Washington State University, abortion reform, and thumbnail histories of Seattle's Columbia City, West Seattle, and West Seattle Junction neighborhoods.
Cassandra enjoyed traveling the state with her husband Glenn whenever she was researching historic locations to write about. The sites they visited include Cape Disappointment State Park, Fort Okanogan, Kettle Falls, Gingko Petrified Forest State Park, the McNary National Wildlife Refuge, the Columbia National Wildlife Refuge, the Columbia River Gorge, Hanford Reach, Steamboat Rock State Park, Wenatchee Confluence State Park, and the Marmes Rockshelter.
Cassandra also wrote many excellent and meticulously researched biographical articles. Some of the many people she wrote about include Wanapum spiritual leader Smohalla, geologist J Harlan Bretz, philanthropist Patsy Collins, environmentalists Joan Crooks and Hazel Wolf, activist Jim Ellis and his brother John Ellis, artists Michael Spafford and Elizabeth Sandvig, musician Ray Charles, actresses Frances Farmer and Peg Phillips, theater directors Glenn Hughes and Burton and Florence James, author Ivan Doig, astronaut Bonnie Dunbar, doctors Lester Sauvage and A. Frans Koome, Watergate co-conspirator John Ehrlichman, Seattle mayors Robert Moran and Gordon Clinton, King County Executive Ron Sims, state senator Bob Grieve, Congresswoman Catherine May, and Governor Dan Evans and his wife, Nancy.
One of our favorite stories Cassandra wrote was about the Three Kichis, Japanese castaways who ran aground on the northernmost tip of the Olympic Peninsula in 1834. Other favorites include her tour of Ice Age floods, her analysis of busing in the Seattle School district, her history of cigarette prohibition in Washington, her four-part history of the Seattle YMCA, her look back at Seattle's Lusty Lady 'panoram,' and her own personal account of seeing Elvis at Sicks' Stadium when she was 12 year old.
And finally, one topic that greatly interested Cassandra was the story of Protestant missionaries Narcissa and Marcus Whitman, who were attacked and killed by Cayuse Indians in 1834. After years of deep research, she turned this story into an acclaimed book, "Unsettled Ground: The Whitman Massacre and its Shifting Legacy in the American West." The book was published as Cassandra was nine months into her struggle with fallopian-tube cancer, but she still promoted it through virtual book readings and discussions. We are so grateful that she lived to tell this story, and to enjoy the book's stellar reviews.