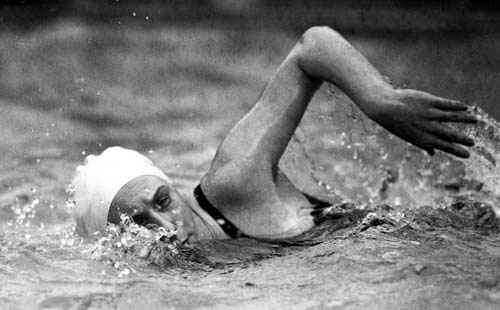 In for a Swim
Eighty-nine years ago this week, swimmer Helene Madison won three gold medals in the 1932 Olympic Games. Her first came on August 8 for the 100 meter freestyle, followed by a win on August 12 in the 400 meter relay. On August 13 she won the 400 meter freestyle, beating the world record by 2.5 seconds.
Upon returning to Seattle, Madison was honored with a giant tickertape parade. Two weeks later she gave a paid performance at the Playland amusement park at Bitter Lake and later tried to break into show business. Unfortunately, her minor gigs as a paid swimmer led to the loss of her amateur status, and she wasn't allowed to compete in the 1936 Olympics.
In the 1936 games held in Nazi Germany, Washington had other competitors who achieved fame. The University of Washington rowing crew -- propelling a George Pocock shell -- won a gold medal on August 14, 1936, and Lee Orr of Monroe placed fifth in the 200 meter dash, which was won by Jesse Owens. In 2013, the rowing crew was immortalized in Daniel James Brown's award-winning book, The Boys in the Boat.
While others were competing in the 1936 Olympics, Helene Madison worked at a Green Lake hot dog stand. Her later years were filled with tragedy, including two failed marriages, indebtedness, and battles against diabetes and cancer. She died penniless in 1970. In 1990 she was featured on a United States postage stamp, and today two Seattle swimming polls memorialize her name.
Out for a Spin
When Seattle's Seafair celebration got its start on August 11, 1950, it included the very first Aqua Follies, held at Green Lake's Aqua Theatre, and the ever-popular hydroplane races on Lake Washington. The summertime funfest has been an annual tradition ever since, but it was in 1955 that Seafair fans witnessed an event unlike any they had seen before, or since.
The International Air Transport Association was holding its annual convention in Seattle that summer, and Boeing president William Allen invited the members to the hydroplane races on August 7 to see the company's new plane -- the Dash-80 -- fly overhead. What Allen didn't know was that pilot Tex Johnston had his own plan to knock spectators for a loop -- by doing just that. As he flew the plane in low -- 400 feet over Lake Washington -- he spun the plane on its axis in a modified aileron roll, in which positive gravity is maintained during rotation. For experienced pilots like Johnston, the maneuver was nonhazardous, but it was still impressive. As Allen, sweating bullets, watched from shore, Johnston flew back over and rolled the plane again.
The next day, Allen called Johnston into his office and asked him what he thought he was doing. "Selling the airplane," Johnston replied. Allen warned him not to pull a stunt like that again, to which he agreed. But his aerobatics paid off. Although the stunt was not mentioned in any newspaper, word of mouth spread quickly, and airline executives were so impressed with this "roll model" that orders came flying in. When the plane entered service in 1958 as the Boeing 707, the Jet Age of commercial aviation was born.