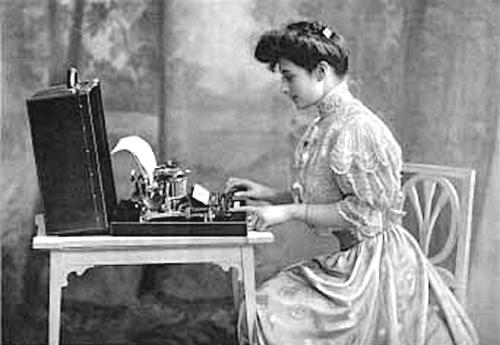 Women of Words
This week HistoryLink celebrates Women's History Month with a look at a few of Washington's notable women authors, journalists, and poets. We begin with Ella Higginson, a Bellingham writer and Washington's first poet laureate. Other Washington poets include Colleen J. McElroy, who has taught at UW for more than 35 years; Lucia Perillo, who received a MacArthur Foundation "genius grant" in 2000; and Esther Altshul Helfgott, who founded the "It's About Time Writers Reading Series" in Seattle.
In 1927 Christine Quintasket, an Interior Salish woman who used the pen name Mourning Dove, wrote Cogewea, the first known published novel by a Native American woman. Other local authors include novelist Mary McCarthy, who was born in Seattle and raised by her grandparents after her mother and father succumbed to the Spanish Flu; Betty MacDonald, best known for The Egg and I and Mrs. Piggle-Wiggle and the author of many other well-loved books; Elizabeth Rider Montgomery, co-author of the "Dick and Jane" reading primers; Pulitzer Prize winner Annie Dillard, whose writing often features Washington settings; and award-winning writer and artist Barbara Earl Thomas, who is also the former director of the Northwest African American Museum.
And in the field of journalism, it's worth noting that Anna Maley, editor of The Commonwealth  -- the official publication of the Washington State Socialist Party -- was also the first woman in the state to run for the office of governor. Other journalists include Margaret Bundy Callahan, who wrote for The Seattle Star and The Seattle Times and also edited the arts weekly Town Crier; Lucile McDonald, a popular feature writer for The Seattle Times, as well as a local historian; and Dolly Connelly, a journalist and photographer who wrote for The Seattle Times and the Seattle Post-Intelligencer, as well as Time, Life, Sports Illustrated, and Sunset magazines.
World of Sports
On March 26, 1917, local sports devotees let out a big cheer when the Seattle Metropolitans hockey team won the Stanley Cup. On March 26, 2005, the Rat City Rollergirls competed in their first roller-derby match, held at the Southgate Roller Rink in White Center.  And three years ago this week, on March 27, 2016, the Washington Huskies became the first team in state history to reach the NCAA women's basketball Final Four.
And with the baseball season soon upon us, this week marks a dual anniversary for Seattle's Kingdome, once a notable landmark but now just a distant memory. Plans for a domed stadium in Seattle were first hatched in 1960, but voters balked at funding it until 1968, when hopes were high for Seattle's first major-league baseball team -- the Pilots. Unfortunately, after playing one season in an aging Sicks' Stadium, the Pilots flew the coop to Milwaukee, where they became the Brewers.
As Seattle fought to acquire another baseball team, discontent over the new stadium grew among citizens and public officials -- mostly over building costs and possible sites -- which delayed construction even further. The Kingdome finally opened on March 27, 1976, and was imploded almost exactly 24 years later, on March 26, 2000.