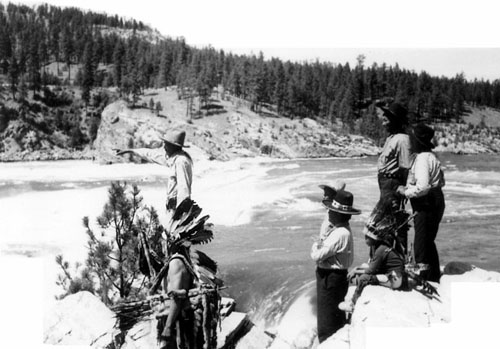 Ceremony of Tears
On June 13, 1940, Native Americans from throughout the Northwest gathered at Kettle Falls in Stevens County for a "Ceremony of Tears" to mourn the loss of their ancestral fishing grounds to waters rising behind Grand Coulee Dam. Work on the dam had begun in 1934, and by 1939 a vast reservoir – Lake Roosevelt – took shape behind it, submerging towns and landmarks as it grew.
For thousands of years, Kettle Falls was a central gathering point for a complex trading network centered on ocean-going salmon. Huge numbers of fish passed through the churning waters, and the surrounding quartzite cliffs proved an excellent place from which to catch them. When Canadian explorer David Thompson arrived at the falls in 1811, he took note of the important resource, describing how the region's Native American tribes carefully managed the critical food supply brought by the river
The Ceremony of Tears marked the end of this tradition. Within a year, Kettle Falls was 90 feet below the surface of Lake Roosevelt. Thousands of members of the Colville Confederated Tribes had long since lost their homes. A song by Woody Guthrie, who promoted the Columbia Basin Irrigation Project in the 1940s, promised "this land was made for you and me." There were many who knew otherwise.
Towns Through the Years
Several Washington communities celebrate birthdays this week. On June 12, 1890, the Spokane County Board of Commissioners certified the incorporation of Medical Lake. The city is located on the shores of a mineral-rich lake that the region's Native tribes believed to have curative properties. The first white settlers also believed the lake had healing powers, hence its name. By the mid-twentieth century, Medical Lake had faded as a resort town, but received an economic boost when Fairchild Air Force Base was built nearby.
In King County, Snoqualmie incorporated on June 9, 1903. For generations, nearby Snoqualmie Falls has been a sacred site as the birthplace of the Snoqualmie Tribe. Soon after white settlers arrived in the Northwest in the 1850s, the falls became a tourist destination, and later a source of hydroelectric power. In more recent years, the town provided the backdrop for the popular Twin Peaks television series, and has also seen dramatic growth with the development of Snoqualmie Ridge.
Two other King County communities share a birthday one year apart. On June 8, 1953, the town of Normandy Park incorporated on the shores of Puget Sound, between the cities of Des Moines and Burien. Developed in the 1920s and 1930s, the community's post-war growth – and fears that King County was looking at the area for a sewer treatment plant – led to its cityhood. And on June 8, 1954, Beaux Arts Village incorporated along the shore of Lake Washington near Bellevue. Proposed as an art colony in 1909, Beaux Arts Village is one of the state's smallest municipalities, but also one of its most affluent.