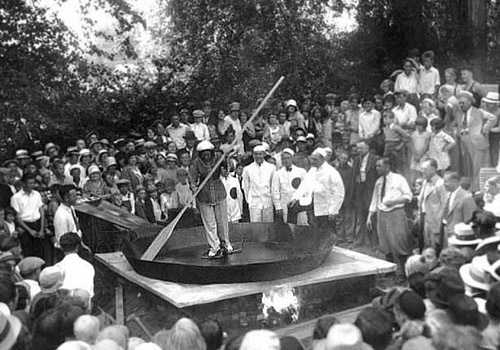 Feeding the Crowd
Ninety years ago this week, on July 24, 1931, approximately 10,000 breakfast lovers showed up in Chehalis to enjoy platefuls of the world's largest omelet, made with 7,200 eggs. The gargantuan goody was cooked up in a specially made eight-foot-wide frying pan, greased beforehand by a young woman wearing slabs of bacon on her feet. The event provided some light-hearted publicity for local chicken farmers during the dark days of the Great Depression.
In the late 1800s, many Washington farmers raised small broods of chickens, but the state's poultry industry didn't really flourish until better husbandry practices were introduced near the turn of the century. Soon afterwards, poultry farms hatched throughout the state, and raising chickens – either for eggs or meat – became a good way for many folks to make a living.
In 1945 Washington chicken farmers received worldwide attention following the publication of The Egg and I, a runaway bestseller by Betty MacDonald that regaled readers with her exploits as a young bride on a Chimacum Valley chicken ranch. The book was later made into a successful film and has been reprinted in more than 32 languages.
The big omelet in Chehalis was a tasty success, and the enormous frying pan went on to greater fame. Chehalis loaned it to the coastal community of Long Beach in 1940, where it was used to fry the world's largest clam fritter for the town's  first annual Razor Clam Festival. Long Beach later forged an ever larger pan, a replica of which is now one of its most popular tourist attractions.
Playing it Loud
This week HistoryLink notes some musical anniversaries, beginning with July 28, 1896, when Tacoma's Olof Bull hauled his violin to the summit of Mount Rainier and played several solo songs -- including "Nearer, My God, To Thee." Bull had attempted his one-man concert three years earlier, but was thwarted by a series of misfortunes.
On July 24, 1939, Seattle's Showbox Ballroom opened as the Show Box. Over the years, this venerable venue from the Jazz Age moved with the groove and has hosted a variety of musical genres, including rock, punk, hip-hop, grunge, pop, and more. Very few dance halls in the state have had such a long and illustrious career.
On July 28, 1962, Seattle's Century 21 Exposition launched a teenage dance series for those itching to do the Twist. On July 25, 1969, Led Zeppelin, The Doors, and Santana performed in Woodinville at the Seattle Pop Festival. And on July 26, 1970, Jimi Hendrix played his final Seattle show, at Sicks' Stadium, less than two months before his death.