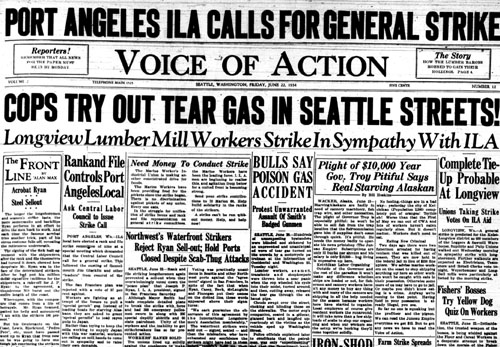 Waterfront Strike
This week HistoryLink looks back at the 1934 West Coast Waterfront Strike, one of the most important and bitter labor strikes of the twentieth century. Longshore workers in Washington first organized in the 1880s, but the early unions were weak and their demands for better workplace conditions and pay were rarely met. After years of failed strikes, including participation in the Seattle General Strike of 1919, maritime workers reorganized under one group, the International Longshoremen's Association. This unification was enabled by the New Deal's National Industrial Recovery Act of 1933, which authorized unions to bargain collectively.
When employers refused to negotiate, the workers struck to demand a coast-wide contract with improved pay, an end to unfair labor practices, and the establishment of hiring halls run by unions, not bosses. The walkout began on May 9, 1934, when thousands of longshoremen and other maritime workers shut down all the major ports in Washington, Oregon, and California. Union members stopped trains from serving the waterfronts and blocked the use of strikebreakers on the docks.
By June the situation was tense. In Seattle, Mayor Charles L. Smith mobilized police to open the port, which led to violent confrontations with the strikers. On June 30 a strike leader was shot north of Seattle, and on July 9 a King County Sheriff special deputy was killed during a street brawl. In San Francisco, two picketers were shot dead and many more were injured after police fired tear-gas canisters during a riot.
By this time, Seattle Teamsters boss Dave Beck was trying to muscle his way in, urging the longshore workers to break ranks with union leaders and negotiate their own deal with Seattle shippers. The local ILA stood firm, siding instead with Harry Bridges, who chaired the West Coast Joint Strike Committee.
President Franklin Roosevelt's National Labor Board (forerunner of the National Labor Relations Board) arbitrated an end to the strike, and on July 31 the longshoremen returned to work. Full settlement took longer, but in the end the ILA won recognition, wage increases, and union control of waterfront hiring halls, charting a course for Harry Bridges to rise to power as president of the reorganized International Longshoremen's and Warehousemen's Union
Moms We Like
May 9 is Mother's Day, and it's worth noting some of the "founding mothers" who left their mark on Washington state history. We begin with Mother Joseph and the Sisters of Providence, who arrived at Fort Vancouver in 1856 and went on to establish many of our state's first and largest hospitals. The state honored Mother Joseph with her own dedicated day in 1999.
Her example was followed by Mother Francesca Cabrini -- who in 1946 became the first American saint -- and by the founders of Seattle's Home of the Good Shepherd. Beyond the Catholic Church, women such as Mother Olive Ryther and Anna Clise responded to the needs of orphaned and sick children.
Edmonds publisher Missouri Hanna has been called the "Mother of Journalism" in Washington, but not all mothers are filled with sweetness and light. Labor activist Mother Jones visited Seattle and Tacoma in May, 1914, with a fiery condemnation of plutocrats and capitalists involved in the coal mining industry. And then there was Mary Ann Conklin, a.k.a. Mother Damnable, a mountain of a woman with a volcanic vocabulary. She operated Seattle's first hotel, later added a brothel, and was known to carry rocks in her apron to hurl at folks who made her upset, and that was just about everyone.