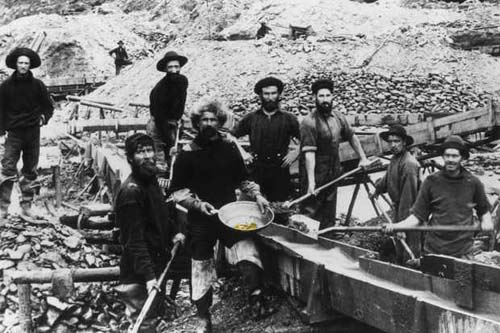 After the Gold Rush
On July 17, 1897, the steamer Portland docked in Seattle carrying two tons of gold from the banks of the Klondike River in Canada's Yukon Territory.  Besides lifting the city out of an economic depression, the ensuing Gold Rush eventually led to many lasting legacies, and this week we look at the paths that led to the creation of both Seafair and the 1962 World's Fair.
Ten years after the gold rush, Seattle had transformed from a rough-and-tumble western town into a growing metropolis. In 1907, the city doubled in size through a series of annexations, but many residents were more excited about plans for Seattle's first World's Fair. Two years later, President Taft opened the Alaska-Yukon-Pacific Exposition from the White House by pressing a telegraph key encrusted with gold nuggets mined in the Yukon.
The A-Y-P proved to be a success, and even turned a profit. One person who enjoyed the fair as a lad was Al Rochester, who ran a bread-slicer at one of the tearooms. Years later, as a Seattle City Councilmember, he advocated for another exposition, which led to Century 21, Seattle's second World's Fair. President John F. Kennedy officially launched the fair by tapping the same gold-encrusted telegraph key used by President Taft in 1909. But keeping with the space-age theme of Century 21, this time the signal was boosted by the impulse from a distant star.
Summertime Blues
Seafair can also trace its roots to the 1897 Gold Rush, but its path is much rockier. On July 17, 1911, Seattle held its first Golden Potlatch celebration to commemorate the Klondike anniversary and to pan some new gold from the pockets of tourists and revelers. The Potlatch Bug brought along lots of fun, but two years later, the celebration turned ugly when self-styled patriots battled leftists and labor radicals on July 17, 1913.
Potlatch rioters sacked IWW and Socialist Party headquarters, and Mayor George Cotterill declared a state of emergency. The following year's Potlatch was more peaceful, but it featured an ominous preview of things to come when daredevil pilot Silas Christofferson flew mock bombing raids over the city on July 18, 1914. By 1915, the world was at war, and although America had yet to enter the fray, patriotism ran strong when the Liberty Bell visited Seattle on July 14, 1915.
Following World War I, Seattle celebrated the silver anniversary of the Klondike Gold Rush with nary a Potlatch Bug in sight. The festival was briefly revived in the late 1930s, but was interrupted by the onset of World War II. After the war, civic leaders began discussing plans for a new summer festival. The result was Seafair -- first held in 1950 and still going strong to this day.