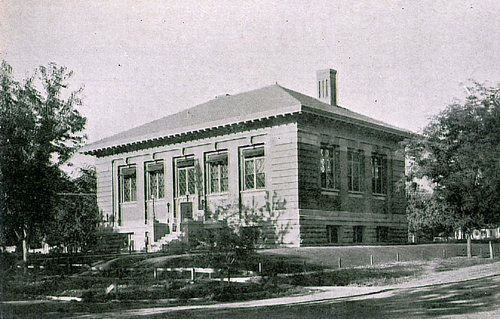 Walla Walla Gains

On December 13, 1905, Walla Walla residents attended the dedication ceremonies for their new Carnegie-funded library. Efforts to establish a public library in the city date back to the 1860s, when the Walla Walla Library Association was incorporated on January 20, 1865. Early attempts at creating a subscription library met with little success, but after Washington became a state, Walla Wallans lobbied the legislature to pass a law authorizing municipalities to establish and finance free public libraries.
With support from the Walla Walla Woman's Reading Club, which organized in 1894, funds were raised, and the Walla Walla Public Library opened in 1897 in a rented room in a downtown building. In 1901 local citizens wrote to steel magnate and philanthropist Andrew Carnegie requesting $25,000 to fund construction of a permanent library building.  He agreed to their request, and in 1905 the library moved into its own building.
A small orchestra played at the opening, and it's very possible that some citizens took note of another cultural institution they might enjoy. Two years later, on December 12, 1907, crowds braved rain and wind on their way to the Keylor Grand Theater to see the Walla Walla Symphony Orchestra's first concert. Today, the orchestra is the oldest continually operating symphony orchestra west of the Mississippi River.
Remarkable Planes

On December 17, 1947, the prototype of the Boeing B-47 Stratojet took its maiden flight, opening up new vistas in aviation. Aided by German research captured during World War II, development of the B-47 led to the use of jet technology in the Boeing 707, which turned many a head on at least one occasion.
Ten years ago this week, a more modern example of aviation technology was seen on December 15, 2009, with the inaugural flight of Boeing's 787 Dreamliner, the first passenger jet made mostly of composite materials. Because of its reduced weight and aerodynamic design, the plane's fuel efficiency has allowed airlines to open new non-stop routes all over the world.  More than 900 Dreamliner have been delivered over the last decade, and hundreds more are on order. 
Want to be notified when we update This Week Then each week? Please subscribe to our free weekly newsletter, which also includes other historical info and news you might find interesting.