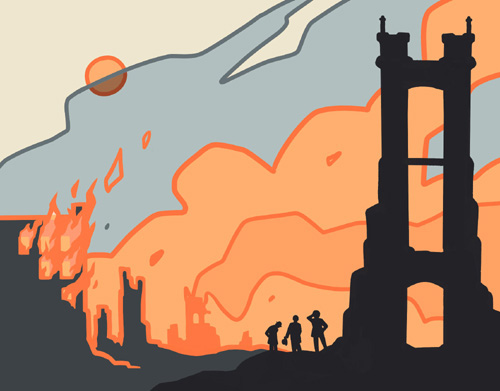 And Then What Happened?
"And Then What Happened?" is the theme of this year's HistoryLunch fundraiser, where we will examine some of the challenging times that have faced Washington in the past and the remarkable recoveries that followed. For example, in 1889 major fires destroyed the business districts in Seattle, Ellensburg, and Spokane. And then what happened? Each city soon rebuilt in stone and steel, and other positive changes also resulted. In Spokane, a tent-based "Waffle Foundry" that opened in the burnt-out city center grew to become Davenport's Restaurant, and later, the famed Davenport Hotel. And just one month after the Great Seattle Fire, voters by an overwhelming margin approved a more robust, city-owned water supply.
Many cities in Washington can look back at the growing pains they suffered through as their populations increased. In Seattle, raw sewage was dumped into Lake Washington for decades, creating a serious health hazard. This led to the creation of the Municipality of Metropolitan Seattle (Metro) in 1958, which was tasked to clean up the lake. Once Metro began opening sewage treatment plants and stemming the discharge of sewage into the lake, its waters began to improve. Metro later went on to build an innovative countywide bus system before merging with King County in 1994.
The region has also bounced back from a number of economic downturns. The Panic of 1893 hit hard, but the state got lucky in 1897 when the Klondike Gold Rush triggered one of the biggest booms in state history. Many years later, another big bust occurred when rapid growth in air travel led to a saturation of the airplane market. After Boeing's big SST project was canceled, some thought it was "lights out" for Seattle. But within a few years, plane sales were up and people began taking a hard look at ways to diversify the local economy and become less dependent on a single employer.
Natural disasters have also taken their toll. In the early 1900s, deadly avalanches at Wellington and Corea led to the creation of the Eight-Mile Tunnel, which bypassed the treacherous mountain tops. Speaking of which, Mount St. Helens lost its top in 1980, and although the blast zone was a barren landscape immediately afterward, it now supports all sorts of plants and wildlife. Nature also fights its way back.
Which leads us to today, as we struggle through the worldwide COVID-19 pandemic, which in some ways is proving worse than the "Spanish Flu" pandemic of 1918. We don't know for sure what the outcome will be, as its history is still being made. But when the time comes, HistoryLink – with your help -- will be here to document the answer to "and then what happened?"