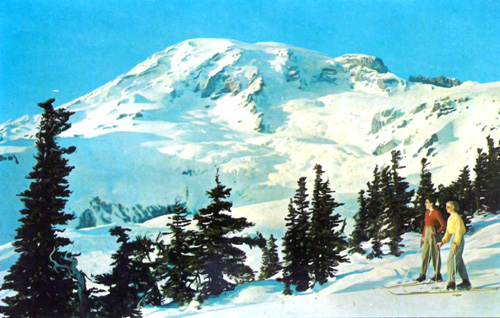 Rising Up
On March 2, 1899, Congress approved the creation of Mount Rainier National Park, more than 369 square miles of land overshadowed by an active volcano exceeding 14,000 feet in height. Although considered sacred by some Native Americans, the mountain's imposing size had already proved attractive to climbers of all sorts seeking to sound out, make their voices heard, or even rise above it.
It wasn't long before skiers scaled its heights, if only to race down them again and again, especially when Paradise Inn opened to welcome them après ski. But the great mountain could also prove treacherous. Famed director Cecil B. DeMille tried to film there in 1924, but was forced off the slopes by a blizzard. In 1939 the prototype for Boeing's Stratoliner aircraft crashed nearby, as did a military aircraft in 1946, killing 32 U.S. marines. But in 1951, one daring pilot was able to land his Piper Cub all the way at the top, only to be fined $350 for his escapade.
More than a century after becoming a national park, Mount Rainer attracts close to 2 million visitors a year. Many have enjoyed its splendor, including mountaineers, hikers, naturalists, conservationists, photographers, and more. In 1997 the entire park was designated a National Historic Landmark District.
Speaking Out
The Seattle Chapter of the Seattle Black Panther Party was established in April 1968 with Aaron Dixon appointed as party captain. That September, armed Panthers visited Rainer Beach High School and displayed their rifles and shotguns on the school grounds in defense of black students who had been attacked and threatened by white students. Relations between the city and the Panthers were already tense, and the city council quickly passed an emergency measure prohibiting the display of "dangerous weapon" to intimidate others.
When the Panthers got wind of efforts to pass a similar gun-control law in Olympia, they pulled together a team on February 28, 1969, to protest at the capitol. Legislative leaders, fearing an armed "invasion," beefed up security and even had a machine gun installed on the capitol roof. But once the Panthers arrived and assured the police that their guns weren't loaded, they walked inside. When Aaron Dixon delivered their message to the legislature, the Panthers held the doors shut, forcing legislators to listen to the five-minute speech. In all, the entire protest only lasted around 30 minutes. Governor Dan Evans signed the gun-control measure into law later that day.