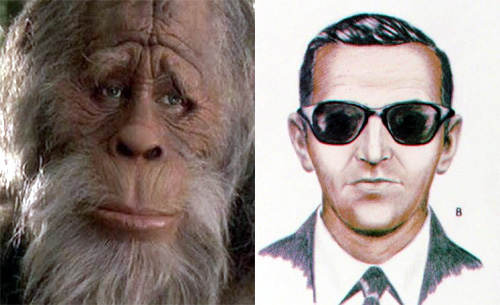 In the Woods
Fifty years ago this week, on November 24, 1969, Sasquatch tracks were discovered in Stevens County, renewing searches for the legendary but elusive cryptid. Sasquatch sightings in Washington date back to the 1800s, when fur trappers and loggers claimed to have seen large hairy beasts roaming the forests. In 1924 the fun-loving Prunarians of Vancouver hosted a summertime picnic at which they promised to exhibit a "Long-Eared Gorilla" that was rumored to be hiding in the woods around Mount St. Helens. Alas, the wily ape-man somehow evaded capture.
In 1958 Bigfoot tracks were discovered in Northern California, which set in motion the modern phenomenon of Bigfoot searches. Years later, the family of Ray Wallace -- a construction worker from Lewis County who died in 2002 -- admitted that he created the 1958 California tracks using a pair of huge carved wooden feet. Others have also claimed to have left bogus tracks, including guitar builder and notorious prankster Harvey Thomas, who was said to have donned a furry suit and big shoes to fool unsuspecting hikers in Washington's forests.
The hoaxes didn't deter the most ardent Sasquatch hunters, many of whom noted that pranks are to be expected, but don't negate the alleged legitimate evidence that has been found throughout the Pacific Northwest. In 1969 Skamania County passed an ordinance making it illegal to harm a Sasquatch within the county's borders, if one was ever found. And there's no doubt about the prominent role of Sasquatch in Northwest folklore. The big hairy beast has appeared in movies, books, and songs, and also became the mascot for the Seattle SuperSonics, before they too disappeared into the wilderness.
Into Thin Air
November 24 also marks the anniversary of another notable Northwest mystery. It was on that day in 1971 that D. B. Cooper became the stuff of legend. It began in Portland when a man using the alias Dan Cooper (erroneously dubbed "D. B. Cooper" by a reporter) commandeered a Boeing 727 bound for Seattle, and demanded $200,000 and two parachutes upon its arrival. Once the plane landed, his demands were met and the passengers were allowed to disembark, while a skeleton crew remained on board.
Cooper next requested that the jet take off and head south, but at a low altitude (10,000 feet) with the landing gear down. The 727 was designed with a set of aft stairs, and somewhere over Southwest Washington -- while the crew was in the cockpit -- he lowered the stairway and vanished into the rainy night. Years later, some of the ransom money was discovered on the banks of the Columbia River, but no sign of Cooper was ever found. Perhaps he landed safely into the arms of a Sasquatch and they lived happily ever after. We may never know.
Want to be notified when we update This Week Then each week? Please subscribe to our free weekly newsletter, which also includes other historical info and news you might find interesting.