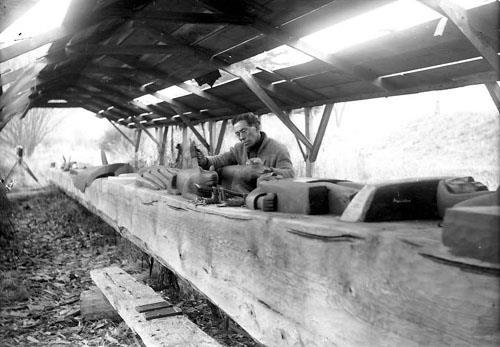 Story Pole
On May 14, 1940, an 85-foot story pole was officially dedicated on the Washington State Capitol grounds. Created by Tulalip cultural leader William Shelton, the pole symbolized ongoing peace between our region's Native Americans and non-Native Americans.
This was the fourth story pole Shelton carved during his lifetime. Known far and wide as a proficient storyteller and wood carver, he spoke at club meetings, schools, fairs, and on regional radio as a spokesman for Native American culture. Shelton spent most of his life attempting the bridge the gap between his people and non-Natives, and is best remembered for his key role in preserving Coast Salish culture.
Shelton spent five years carving the Olympia story pole, but died before it was completed, and other tribal members finished the project. As a testament to Shelton's role as an educator, Snohomish County school students raised funds to purchase the pole, gathering thousands of pennies from children around the state.
Olympia's story pole was well maintained over the years, undergoing numerous cleanings and repaintings, as well as extensive restoration work. But while stories last, wood does not. Due to deterioration, the pole had to be taken down in 2010. Its remains are now stored at the Hibulb Cultural Center in Tulalip.
Rock 'n' Roll
On May 14, 1972, music fans gathered at Seattle's Paramount Theatre for the first-ever Northwest rock 'n' roll reunion concert, featuring performances by such local luminaries as the Wailers, the Sonics, and the Dave Lewis Trio. Many in the audience had a chance to reflect upon how much the "Northwest Sound" had changed over the last decade, along with rock music in general.
Fifteen years later, on May 16, 1987, the Paramount was host to a new music scene when the Spring Rapfest featured up-and-coming local rapper Sir Mix-A-Lot as the opening act for some of the nation's premier hip-hop stars. This event garnered plenty of attention, but not all of it good. A mini-riot broke out after the show, which then got hyped up on the TV news. The negative publicity didn't help hip-hop's reputation in mainstream circles, but Seattle's hip-hop scene soon became a powerhouse.