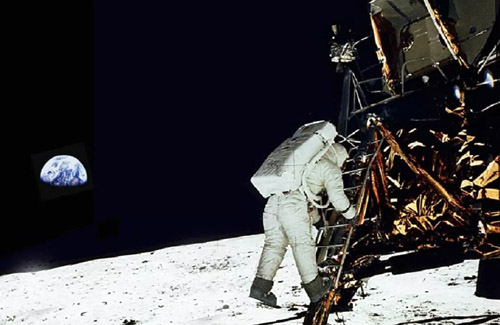 Walking on the Moon
Fifty years ago this week, on July 20, 1969, the world looked on in amazement as Neil Armstrong and Buzz Aldrin became the first humans to walk on the moon. In Washington, Boeing workers took pride in helping the astronauts achieve this "giant leap for mankind." When Apollo 11 lifted off from Cape Kennedy four days earlier, the Boeing-built S-1C first stage booster of the Saturn V launch vehicle rocketed it skyward. NASA also hired Boeing to coordinate Technical Integration and Evaluation of all Apollo systems.
Six years earlier, NASA was the second-largest exhibitor at the Seattle World's Fair, and its $2 million exhibit was the organization's first large-scale attempt to tell the story of the United States space program. When John Glenn visited the fair he was joined by eight other test pilots, all of whom spoke at a NASA conference where they answered questions about space travel. Most of the audience was focused on Glenn, who recently became the first human to orbit the earth, and barely noticed the other pilots, one of whom was Armstrong.
Pete Conrad was one of the other test pilots at the conference, and he went on to command the Apollo 12 mission in November 1969. When Conrad and Alan Bean walked on the moon's surface, Seattle native Dick Gordon orbited above them. Meanwhile, Boeing was working on a new NASA contract for a motorized "moon buggy" needed for future missions. The Boeing-made Lunar Rover was completed in 1971, and assisted astronauts during the final three Apollo moon landings.
Messages from Space
This week marks the anniversary of another space-age event in which the 1962 World's Fair played a significant role. On July 23, 1962, the Telstar 1 satellite relayed the first live televised images between Europe and the United States, heralding a new age of electronic communication. Viewers in Europe gazed in fascination at black-and-white, somewhat grainy views of America, including the Statue of Liberty, Mount Rushmore, and a 90-second live broadcast from the Century 21 fairgrounds. The Space Needle took center stage, followed by glimpses of Japanese Bon Odori, Spanish Flamenco, and Hawaiian Hula dancers, as well as a boy enjoying a Belgian waffle.
Some fairgoers had already gotten a glimpse of the future soon after Telstar's launch two weeks earlier. Once the communications satellite was in orbit, it relayed one of the first long-distance telephone calls of the satellite age, between Senator Warren Magnuson in Washington, D.C., and Governor Albert Rosellini and Fair general manager Ewen Dingwall atop the Space Needle. The historic phone call was broadcast over the fair's public address system, so everyone could listen in.