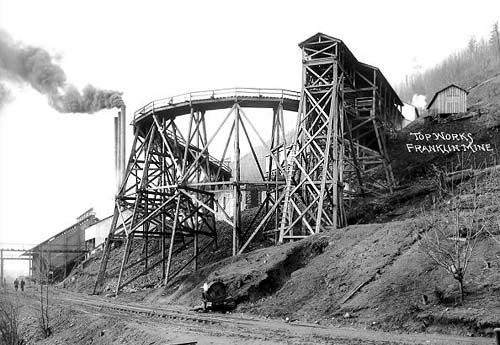 Fires Below
One hundred and twenty-five years ago this week, on August 24, 1894, fire broke out in the Oregon Improvement Company's coal mine at Franklin, a small coal town southeast of Black Diamond. The men working below rushed to the main shaft, desperate to escape the smoke and flames. Some made it, others didn't. In the end, 37 miners suffocated in King County's worst coal-mining disaster, second in the state only to an explosion and fire in the Roslyn mines that killed 45 men two years earlier.
King County's first coal mine was established near Renton in 1853. Ten years later, larger and more accessible deposits were discovered in Newcastle. Rail lines were built to transport coal to Seattle and beyond, and by 1875 coal mining had surpassed logging as the county's main industry.
Farther inland, more coal was discovered, which led to greater development of towns like Issaquah, Bayne, Durham, Elk Coal, Danville, and several communities in east Pierce County.
But the increase in production came with a price, as fires and explosions took the lives of many workers. Four died in Newcastle in 1894 and 11 died in McKay in 1902. Seven died in Black Diamond in 1907 and ten were killed in Roslyn in 1909. Sixteen died in Black Diamond in 1910, thirty-one died in Ravensdale in 1915, and many others died alone in accidents down in the dark depths.
Heavens Above
The first Christian religious service in Seattle occurred on August 22, 1852, when visiting Bishop Modeste Demers held Catholic Mass, reportedly in Henry Yesler's sawmill cookhouse. Although many Native Americans, including Chief Seattle, had been baptized by Catholic missionaries, most if not all of Seattle's first settlers were Protestant.
In 1853 missionaries David and Catharine Blaine arrived in town and began organizing a Methodist Episcopal church.  Blaine's first sermon was a flop when he misjudged his small but well-educated audience, talking down to them as if they were country bumpkins. He quickly adapted his preaching style, and the pair became very active in the community. In 1854 Catherine was hired to teach at Seattle's first school, and the following year the Blaines helped dedicate Seattle's first church, built on land donated by Carson Boren.
Want to be notified when we update This Week Then each week? Please subscribe to our free weekly newsletter, which also includes other historical info and news you might find interesting.