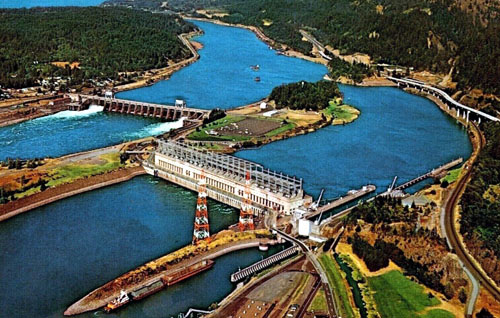 Up the River
Eighty-five years ago this week, on June 6, 1938, Bonneville Dam went into service on the Columbia River Gorge between Skamania County and Oregon. Besides generating electricity, the dam helps prevent flooding and allows easier passage of ships just below the river's final major drop on its way to the sea.
In about 1450, an immense landslide a few miles upstream from the future dam blocked off the Columbia River, creating a lake 100 miles long. When this water finally burst through, it gouged out nearly four miles of rapids, which exploring naturalist David Douglas would later name the Cascades of the Columbia. These rapids became an ideal fishing spot for Native Americans but vexed many early travelers – including Lewis and Clark – who had to portage their canoes around the rocks.
By the end of the nineteenth century, steamboats plied the lower river, but had to transfer passengers and freight onto railroads traveling to and from the "Inland Empire." When the Cascades Locks and Canal opened in 1896, ships were finally able to pass all the way from the mouth of the Columbia to Lewiston, Idaho.
In 1933 Senator Homer T. Bone pushed bills that provided funding for both the Bonneville and Grand Coulee dams. Construction began in 1933, and when it was finished Lake Bonneville completely submerged the Cascades rapids. The nearby Bridge of the Gods had to be raised 44 feet to provide clearance for vessels.
But every action has a reaction. Bonneville Dam opened up the Columbia River for commerce, but it hindered the movement of those that travel the river most – fish. Although fish ladders were built to accommodate migrating salmon and white sturgeon, fish populations declined drastically. And in recent years, a new threat has emerged: California sea lions have learned a new behavior, swimming 145 miles upstream to prey on the salmon that concentrate at the ladders. Ensuring that these fish do not face extinction has been hard work – by a dam site.
Up in Flames
This week is a hot one in Washington state history. On June 6, 1888, most of Ritzville went up in flames after a hotel fire spread throughout the city's business district. A year later, on June 3, 1889, half of downtown Republic burned to the ground, just as the community was beginning to enjoy a gold-mining boom. And on June 7, 1904, Lynden suffered its worst fire, after which its citizens created a fire department and water district to help fight any future breakouts.
But one of the state's most memorable fires took place on June 6, 1889, when a Seattle cabinetmaker accidentally overheated a pot of glue and ignited his employer's shop at 1st Avenue and Madison Street. Fanned by a hot, dry breeze, the flames quickly spread through the wood-framed downtown. Volunteers struggled to douse them, but the town's privately owned water system delivered only a trickle. By that night, 64 acres of central Seattle had been reduced to a "horrible black smudge," as described by visitor Rudyard Kipling.
In the fire's aftermath, the city created a new fire department, headed by Gardner Kellogg, an advocate of fire-prevention and safety ordinances. Mayor Robert Moran also acted quickly to win public approval for a municipal water system. This led to development of the Cedar River Watershed and, indirectly, to Seattle City Light.