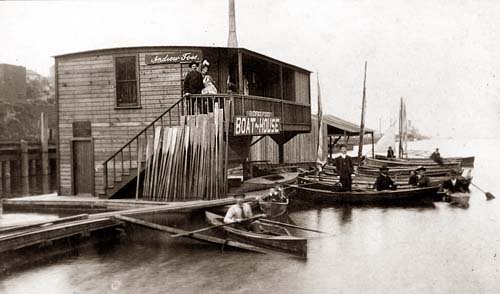 Tacoman Array
This week HistoryLink features new articles related to some significant people in Tacoma's past. These essays were made possible by a Heritage Project Grant from the City of Tacoma Landmarks Preservation Commission, and we are very thankful for their support.
We begin with Puyallup Tribal member Henry Sicade, who was born in 1866 and grew up just after the treaty negotiations between tribes and the U.S. government over ceding Indian lands had been resolved, leaving tribal communities to contend with continued assimilation and non-Native settlement. As an adult, Sicade leveraged political and social seats of power to bring about change for the Puyallup Tribal community.
William Rust began his career in the Colorado mining industry and moved to Tacoma in 1889 to manage a new smelter on the shores of Commencement Bay. Over the next two decades he was instrumental in making Tacoma one of the top cities in the West for ore smelting and refining, and the town that grew up around the smelter was named Ruston in his honor. The smelter was also home to the world's largest smokestack, which was demolished in 1993.   
In 1889 Thea Foss founded a rowboat service (image above courtesy Tacoma Public Library) in Tacoma that later grew to become Foss Maritime, the largest tug and towing operation on the West Coast. The 1933 movie Tugboat Annie was loosely based on her exploits, and more recently the Norwegian play The Other County -- also based on her life story -- made its Tacoma debut. Thea Foss's name also lives on as the Thea Foss Waterway on Tacoma's waterfront.
Sunya Pratt joined the Tacoma Buddhist Church in 1934 and quickly became involved in the children's education program. Two years later she was ordained as a minister, and over the next 50 years she became an important spiritual leader for Jodo Shinshu Buddhists in the Pacific Northwest. In 1984 Pratt was honored with a testimonial dinner for her years of service.
Dr. George Tanbara and Kimiko Fujimoto Tanbara were also pillars of the Tacoma Buddhist Temple, and Dr. Tanbara is credited with cofounding two key health-care resources for low-income families and youth in Pierce County, Community Health Care and Pediatrics Northwest. In 2009 the Kimi and George Tanbara, MD Eastside Family Medical Clinic was named in their honor.
Finally, we end with Maxine Mimms, who founded the Tacoma campus of The Evergreen State College. She also founded the Maxine Mimms Academies, a non-profit organization in Tacoma's Hilltop neighborhood serving youth expelled or suspended from public schools. In 2017 Mimms received Tacoma's prestigious Dr. Martin Luther King Jr. Community Service Award, and last year she was presented with a key to the City of Tacoma at her 90th-birthday party.
St. Patrick's Day
This week we mark St. Patrick's Day with a look at some of the Irish Americans who played major roles in Washington history, beginning in 1805 with Sgt. Patrick Gass, who kept his own journal as a member of Lewis and Clark's Corps of Discovery.  When the Hudson's Bay Company opened Fort Vancouver on March 19, 1825, Dr. John McLoughlin was dispatched to take charge of its Columbia District, and more Irish came with him.
Irish Americans were among the many immigrants who traveled the Oregon Trail. Among those who settled in Washington were Michael Simmons and George W. Bush, who both settled near Tumwater in 1845.  By 1856 one of every 12 land claims in Washington Territory was made by Irish-born settlers, many of whom had left their native land following the famine years of 1847-1850. Michael Cowley came to this country with no money at the age of 15 and became influential in the development of Spokane. James Purcell Comeford came to America in 1849, and later became the "father of Marysville." Jimmie Durkin and his family (including 13 siblings) arrived in America in 1868, and he grew up to become Spokane's legendary liquor tycoon
Seattle, from its first days, has produced such notables of Irish descent as Judge Thomas Burke, first King County executive and former Governor John Spellman, legendary public-affairs consultants Bob Gogerty and Wally Toner, Childhaven founder Patrick Gogerty, and flamboyant couturier John Doyle Bishop, who organized the city's first St. Patrick's Day Parade in 1972. The Irish in Seattle have also celebrated their heritage with dancing, Gaelic football, and through participation in clubs and organizations such as the Ancient Order of Hibernians.