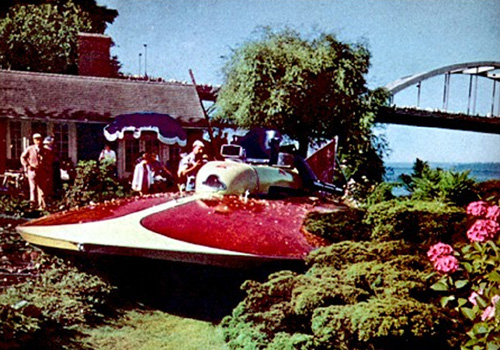 Seafair Festivities
This week Seafair, Seattle's annual summer celebration, culminates with the Seafair Weekend Festival, so expect to see the U.S. Navy Blue Angels flying overhead and the hydroplanes kicking up roostertails on Lake Washington. Seafair has been a tradition since 1950 and has produced many memories that have lasted a lifetime.
On August 7, 1954, attendees at a garden party in Seattle's Mount Baker neighborhood got a surprise when the hydroplane Gale IV, piloted by "Wild Bill" Cantrell, dropped in uninvited to a home on Lake Washington. The boat lost its steering and ended up on their lawn (seen above). No one was injured, but Cantrell was quite embarrassed. The following year Seafair fans saw something even more amazing when Boeing test pilot Alvin "Tex" Johnston unexpectedly "rolled" a jet over Lake Washington. Boeing president William Allen invited airline executives to Seafair to see the new Dash-80 in action, hoping they'd be impressed. They were.
Over the years Seafair has had many noteworthy events, but there is one that lives on only in memories – the Aqua Follies, held in the Green Lake Aqua Theater. This spectacle featured a "swimusical review" performed by the Aquadears, and comical trick high-dive acts by the Aquadivers. The Follies lasted until 1964, after which the theater fell into disrepair. In 1969, Led Zeppelin rocked the venue a little too hard and it was demolished soon after.
Wartime Activities
On August 6, 1945, a Boeing B-29 named the Enola Gay dropped an atomic bomb over Hiroshima, Japan, killing tens of thousands of people and vaporizing an area of four square miles. Three days later, another B-29 detonated a second nuclear device over Nagasaki. The residents of Richland in Benton County finally learned the truth about what was being produced at the Hanford Engineer Works -- key atomic-bomb components, including the plutonium used in the Nagasaki device, came from Hanford.
Two and a half years earlier, thousands of Richland-area residents were stunned when they received registered letters informing them of the condemnation of their homes and farms for undisclosed military purposes. Most were ordered to evacuate in 30 days so construction could begin at the massive Hanford site, located on 625 square miles of land along the Columbia River. 
In a very short time, tens of thousands of workers built more than 500 structures, including three reactors, chemical- separations buildings, fuel-fabrication facilities, laboratories, offices, and underground high-level-waste storage tanks. They constructed 386 miles of automobile road, 158 miles of railroad, 50 miles of power lines, four electrical substations, and hundreds of miles of fencing. A "government city" was built to house 17,500 people, most of whom had no idea exactly what it was they were building until the two bombs fell on Japan and brought World War II to an end.