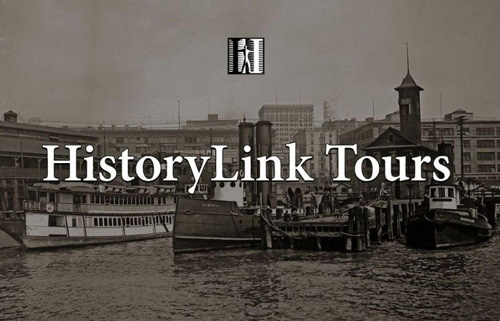 Go and Explore
This week HistoryLink is proud to announce the launch of our newest feature, HistoryLink.tours. These self-guided historical walking tours -- which were developed by Civilization, with support from Vulcan, the Seattle Department of Neighborhoods, and 4Culture -- are filled with photos and links to relevant HistoryLink articles. The tours are a great way to explore how neighborhoods and towns have become the places they are, and each tour is easily accessible by public transportation. Don't forget to download the HistoryLink Tours App to your mobile device.
We've started off with three tours, but more are on the way. Take a stroll through historic downtown Issaquah, which has seen quite a few changes over the years but still offers many glimpses into its past. Seattle's South Lake Union neighborhood has undergone a massive transformation in the past 20 years, and our tour helps you navigate through this palimpsest to discover some historic treasures. And finally, we offer a foodie's guide to Pike Place Market that focuses on eateries and establishments of historical note at one of the city's most popular destinations.
Next year we'll be adding a second tour of Pike Place Market, as well as tours of Seattle's Central Area and Belltown neighborhoods. Other future tours may include visits to historic downtowns in cities like Ellensburg, Tacoma, and Spokane. If you have any suggestions for communities that you would like to see walking tours of, please let us know.
World at War
On September 21, 1942, Boeing's B-29 bomber -- a top-secret aircraft that the company had been working on even before America's entry into World War II -- made its maiden flight. Although the project later suffered a setback, thousands of B-29s were eventually used in the Pacific theater, and the Superfortress became the first, and so far only, aircraft to drop atomic bombs during wartime.
On the same day Boeing engineers watched the prototype B-29 take to the air, military brass were gathered near Oak Harbor for the opening of Naval Air Station Whidbey Island. During World War II, NAS Whidbey was used to train fighter and patrol bomber crews, and it remains the Navy's principal air facility north of San Francisco and west of Chicago.
The day after the B-29 launch and the opening of NAS Whidbey, one more wartime event took place that few knew about at the time. President Franklin Roosevelt made a secret visit to Washington that the press was ordered not to report. He arrived by train on September 22, stopping first at Fort Lewis. From there he traveled north to tour the Puget Sound Naval Shipyard near Bremerton, then viewed Boeing bombers being assembled in Seattle. After spending the night at his daughter's home on Mercer Island, he traveled the next day with her to Vancouver, where they toured the Alcoa plant before heading off to a ship launch at the Kaiser shipyard in Portland.
Want to be notified when we update This Week Then each week? Please subscribe to our free weekly newsletter, which also includes other historical info and news you might find interesting.