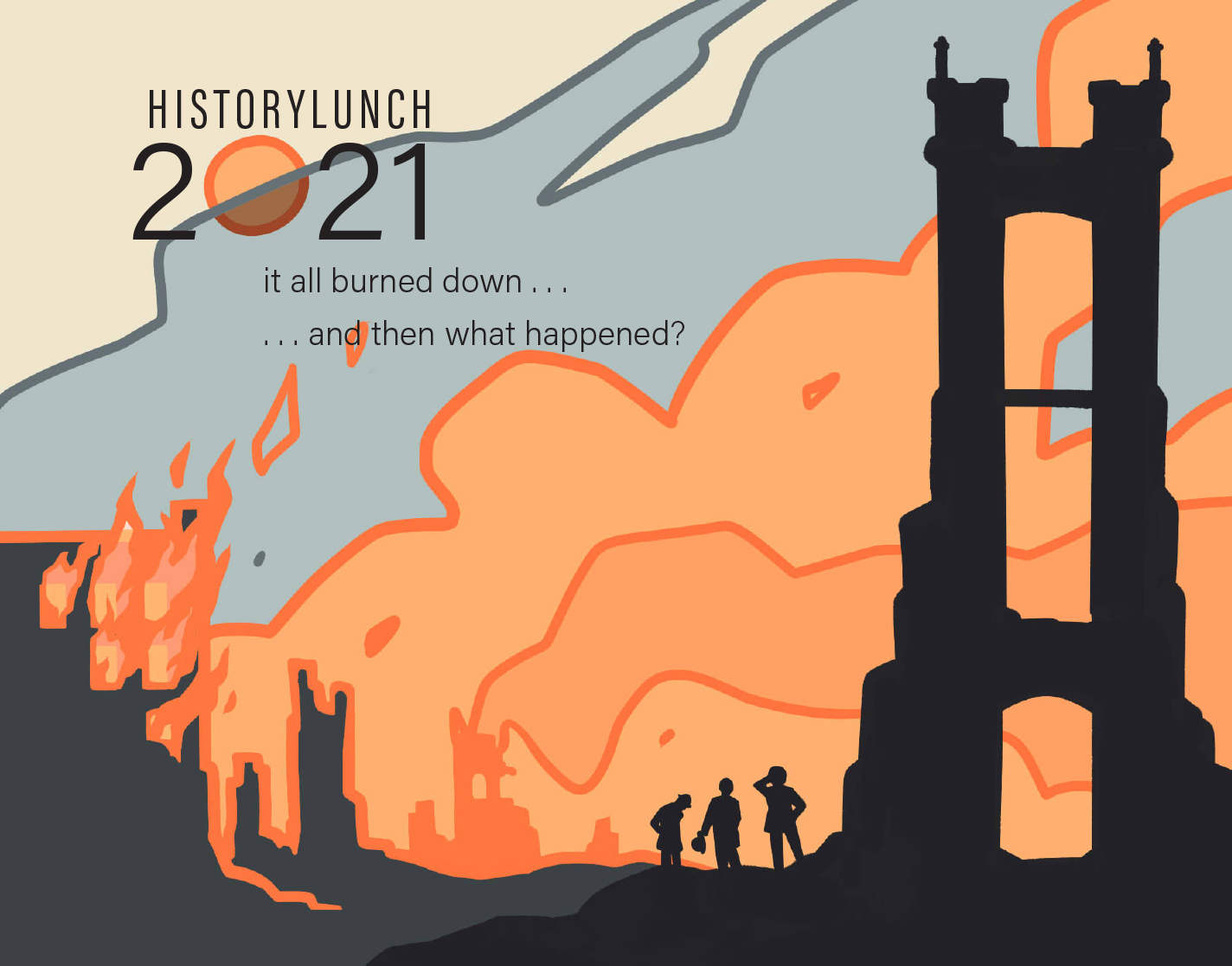 Thank you for making this year's HistoryLunch our most successful yet!
You can still watch the event by following the link below.
Thanks to all who joined us in supporting HistoryLink­—a treasure of Washington state history—as we took a look back at these disasters in Washington's past, the remarkable recoveries that followed, and considered how the past might guide us as we emerge from COVID-19.
Watch the recording of HistoryLunch 2021 at historylink.org/lunch.
Our thanks to Kiku Hughes for the illustration featured above.
________________________________________________

Join MOHAI, HistoryLink, and the Seattle Public Library on the third Wednesday of the month for a discussion about local history—both popular and obscure—and discover something new. Listen to the audio from past History Cafés on the MOHAI site.
MOHAI
860 Terry Avenue North
6:30 - 7:30 p.m.
 
**Did you miss a History Cafe? No problem! You can watch recordings on the MOHAI YouTube channel.** 
Minoru Yamasaki's Place in Seattle Architetural History
Janurary 19, 2022
6:30 to 8:00 p.m.
Online
MOHAI
860 Terry Avenue North, Seattle 98109
Honoring Bainbridge Island's Indipino Community
February 16, 2022
6:30 to 8:00 p.m.
Online
MOHAI
860 Terry Avenue North, Seattle 98109
Exploring Indigenous Food Sovereignty with Dr. Charlotte Coté
March 16, 2022
6:30 to 8:00 p.m.
Online
MOHAI
860 Terry Avenue North, Seattle 98109 
_____________________________________________