Click on this map to find museums or historical/cultural centers located in each geographic region that offer history-related school tour opportunities. Please contact us at [email protected] if you have school tour or field trip opportunities to add to our list.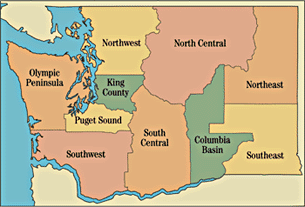 King County:
Burke Museum – King County Field Trip/Seattle: The Burke Museum welcomes group visits by children and adults of all ages. There are several options for group visits: hands-on discovery tours, guided tours, and self-guided tours. Museum docents offer the inside story on the collections, the museum's fascinating history, and the many treasures on display. Students have a chance to handle real artifacts from other cultures, or scientific specimens from the museum's teaching collections. Reservations are required.
http://www.washington.edu/
burkemuseum/education/tours.php
Cedar River Watershed Education Center – King County Field Trip/North Bend: The Cedar River Watershed Education Center offers free educational programs to schools and groups.  Participants investigate the source of their drinking water and discover the importance of protecting and conserving this limited water supply for fish and people through hands-on activities. Topics include water quality, erosion, cultural history, and wildlife. Space is limited so reservations are required and sign-ups are on first-called, first-served basis. Bus subsidies are available for Seattle Public Schools.
http://www.seattle.gov/util/EnvironmentConservation
/OurWatersheds/CedarRiverWatershed
/CedarRiverEducationCenter/index.htm
Center for Wooden Boats – King County Field Trip/Seattle:  The Center for Wooden Boats provides hands-on educational opportunities for a variety of age groups and curricular needs. These programs use the maritime environment at the CWB and classic wood boats to engage students in the Pacific Northwest's unique culture, history and the natural world. Activities include trips in the traditional skin-on- frame Umiaq, toy boat building, canoe carving, and more.  
http://www.cwb.org/node/41
Eastside Heritage Center - King County Field Trip/Bellevue: The Eastside Heritage Center has developed a series of guided tours that provide an opportunity to be immersed in the Eastside's past and present. Visiting the following historical destinations with a trained educational representative of the EHC are available: Larsen Lake Cabin (Lake Hills Greenbelt), Winters House (Mercer Slough Nature Park), Cougar Mountain Regional Park and several historic Eastside schools. Reservations are required at least three weeks in advance. Groups supply their own transportation.
http://www.eastsideheritage
center.org/education.html
Experience Music Project /Science Fiction Museum and Hall of Fame – King County Field Trip:  Education is a key focus for EMP|SFM, a cultural institution designed to explore the creative process and promote critical thinking. Field trips will help students K-12 and teachers to extend their learning experience above and beyond the classroom walls. A school visit to EMP|SFM gives students the chance to experience interactive exhibitions that highlight the nation's musical culture and history and the role of imagination in fictional literature and films. Hands-on, student-centered Investigation Workshops are designed to complement self-guided tours, and include museum admission. All workshops include a follow-up gallery connection and suggested activities for the classroom to enhance the museum experience.
http://www.empmuseum.org/programs-plus-
education/for-educators/educational-resources.aspx
Issaquah History Museum – King County Field Trip/Issaquah: The Issaquah History Museum offers school tours of the Gilman Town Hall Museum and the Issaquah Depot Museum by prescheduled appointment. Tours are tailored to meet the needs of the classroom and last from 45 minutes to an hour. Topics generally covered at the Gilman Town Hall include pioneer life, the nature of the community, and the general history of our town. Topics covered at the Issaquah Depot include the industrial revolution, travel and communication, and the early economic development of Issaquah. Tours are FREE for Issaquah School District groups (other groups pay $1 a child). 
http://www.issaquahhistory.org/teachers/
Klondike Gold Rush Museum – King County Field Trip/Seattle: Located in historic Pioneer Square in downtown Seattle, the Klondike Gold Rush Museum offers either an informal program or an organized curriculum-based program for school students.  The informal program is offered Monday-Friday and includes videos of the Gold Rush and its connection to Seattle and the Pacific Northwest.  This tour also includes a gold panning demonstration. The curriculum-based program is offered during the school year for grades 3-5. This field trip lasts approximately 2 hours and reservations are required.  Teacher workshop and student pre and post tour activities are provided.
http://www.nps.gov/klse/index.htm
Log House Museum – King County Field Trip/Seattle:  Located near historic Alki Beach in West Seattle, the Log House Museum School Tour Presentations are a popular curriculum addition for many classes and home school programs. Tours generally run one hour. A 30 minute history and storytelling session by a trained educator highlights West Seattle's early history. Next, tours walk one block to Alki Beach to put new knowledge of the history of the area in context with the real world.
http://www.loghousemuseum.info/education/
Mary Olson Farm – King County Field Trip/Auburn:  The White River Valley's historic Mary Olson Farm is a unique educational experience for students of all ages. Through generous support from the Auburn Rotary Club and Auburn Soroptomists, the costs of admission and transportation to the Farm for EVERY Auburn School District first and sixth grade student for school year 2009-10 is covered. Interactive curriculum especially designed for grades K-2 and for grade 6 have been developed to introduce students to life on the farm and to the miracle of spawning salmon. Reservations are required.
http://wrvmuseum.org/farm_field_trips.html
and
http://wrvmuseum.org/Olson_Farm/
PDF_Files/School_Programs.pdf
Museum of Flight – King County Field Trip/Seattle: The Museum of Flight provides several options for student field trips. Flying Through Time is designed for elementary aged students and explores aviation history and technology with a tour through the Great Gallery. Specially designed booklets guide students to discover, question, and extend their thinking about the development of aviation. The Dream of Flight tour guides high school students through the milestones in the development of flight with exhibits in the Red Barn and the Great Gallery.  Reservations are required and scholarships are available. Admission free for students under the age of 17.
http://www.museumofflight.org/files
/EdGuide_2010_Fin.pdf
Museum of History & Industry – King County Field Trip/Seattle: - Field trips are offered on-site at the museum for K-12 students. These field trips are designed around the Essential Seattle exhibit, showing how life in the Puget Sound region has changed through time. Three additional unique field trips are also available that allow students to analyze the Museum's primary sources (artifacts, documents, photographs and exhibits) to explore the history of this region.
http://www.mohai.org/visit-us
/group-visits/8-menu-items/43-museum-programs
Neely Mansion – King County Field Trip/Auburn: - The Neely family were among the earliest settlers in the Kent area and played a major role in its development in the 1850s.  Their farm consisted of 200 acres with a dairy and an orchard. The house has been restored to its former glory and is one of the few remaining examples of the many Victorian-style farmhouses that were once commonplace throughout the region. The Neely Mansion is listed on the National Register for Historic Places, the Washington State Register and is a designated King County landmark. Arrangements can be made for tours to schools and civic groups.
http://www.neelymansion.org/index.html
Nordic Heritage Center – King County Field Trip/Seattle: The Nordic Heritage Museum offers guided or self-guided school tours. Guided tours take place in the Dream of America exhibit and include a curriculum guide and a scavenger hunt for students. Students travel back to the nineteenth-century Scandinavia to begin the journey to America through the exhibit's life-like settings and period artifacts. The voyage continues as students board a ship to cross the Atlantic, disembark at Ellis Island, and settle in the Pacific Northwest and Ballard, Seattle. The Nordic immigrant experience comes to life with this dynamic tour using role-playing and illustrative props. Reservations are required but tours are free for Seattle Public School groups.  
http://www.nordicmuseum.org/education.aspx
Northwest African American Museum – King County Field Trip/Seattle: - NAAM offers docent-guided tours of its galleries to local school groups. These interactive and inquiry-based tours are offered throughout the year, providing an in-depth look at the history, art and culture of African Americans in the Pacific Northwest. Students explore the Journey Gallery with knowledgeable docents on a fascinating adventure through space and time, giving glimpses of the vibrant and exciting experiences of the African American community in the Northwest from 1790 to the present. Reservations required.
http://naamnw.org/SchoolTour.html
Northwest Railway Museum – King County Field Trip/ North Bend: The Northwest Railway Museum offers a fun and educational excursion into the past through the School Train program.  This program is designed for 4th graders and targets 4th grade Washington State History and Social Studies requirements, but is adaptable for students in other age groups School Train departs from the Snoqualmie Depot and only operates in May each year for three two-hour sessions each day.
http://www.trainmuseum.org/SchoolTrain.asp
Northwest Seaport – King County Field Trip/Seattle:  Northwest Seaport's historic vessels are located in Seattle's Lake Union Park, just north of downtown. The tugboat Arthur Foss, Lightship #83, and troller Twilight are moored on the Historic Ships Wharf with other vessels. Northwest Seaport has several opportunities to experience its historic vessels. Group tours of the tugboat Arthur Foss are available by appointment.
http://nwseaport.org/activities/plan-a-visit/
Shoreline Historical Museum – King County Field Trip/Seattle: Housed in the historic Ronald Elementary School, the Shoreline Historical Museum preserves, records and interprets the history of the Shoreline area and its relationship to the Northwest. The archive of 6000 photos and the collection of 5000 artifacts tell the story of local neighborhood development. School tours are scheduled by appointment.
http://shorelinehistoricalmuseum.org/education
Snoqualmie Valley Historical Museum – King County Field Trip/North Bend: The Snoqualmie Valley Historical Museum, has served Fall City, Preston, Snoqualmie, North Bend, Cedar Falls and Snoqualmie Pass for nearly 50 years. Ada Snyder Hill came into the Valley in 1910 to teach school and early on began collecting the historic items. They were the nucleus for the present day collection that includes cherished artifacts and anecdotes from all corners of this region.  A guided tour can provide a unique prospective on the evolving Snoqualmie Valley history to students. 
http://www.snoqualmievalley
museum.org/museum.html
Underground Tour – King County Field Trip/Seattle:  Bill Speidel's Underground Tour is a guided walking tour beneath Seattle's sidewalks and streets. Tours roam the subterranean passages that once were the main roadways and first-floor storefronts of old downtown Seattle, while tour guides share stories, some of which our pioneers didn't want you to hear. It's history with a twist! The tour begins inside Doc Maynard's Public House, a restored 1890s saloon then moves through historic Pioneer Square to three different sections of Seattle's underground.
http://www.undergroundtour.com
/about/index.html
White River Valley Museum – King County Field Trip/Auburn: – White River Valley Museum's trained museum educators conduct engaging school programs throughout the school year. These programs are interactive and inquiry-based, and all are aligned with both the Essential Academic Learning Requirements and the Grade Level Expectations for Washington State. Elementary students in grades 3-6 can explore relevant local historical themes through hand-on activities, use of primary sources, and group discussions. Museum educators will work with secondary students to design a program that meets specific needs or interests.
http://www.wrvmuseum.org
/teachers_resourses.html
Wing Luke Asian Museum – King County Field Trip/Seattle: School tours visit the museum's permanent exhibition, "Honoring Our Journey" along with changing special exhibits.  Students will learn about the 200-year story of the immigration and settlement of Asians and Pacific Islanders to the Pacific Northwest.  Docents engage students with first-hand stories, artifacts and photos, lively discussion, and multimedia and creative activities.
http://www.wingluke.org/schooltours.htm
Leave No Stone Unturned: History Lessons for Rocky Beach Field Trip – King County Curriculum
With carefully prepared lessons and the right connections, a field trip can also serve as an opportunity for students to become exposed to the rich historical legacy of King County and Washington state institutions and their surrounding neighborhoods.  HistoryLink.org is currently developing and assembling a series of curriculum materials that will offer historical perspective to visits to popular local educational destinations and align with expected Washington State academic expectations. First in the series is the field trip to West Seattle's rocky beach habitat. Activities from Welcome to the Green Land : Children's Guide to the Alki Area of West Seattle, a 4Culture HCE project developed by the Southwest Seattle Historical Society, are included to supplement the lessons.  This curriculum developed through a partnership between HistoryLink.org and Heritage 4Culture. 
Download Curriculum and Welcome to the Green Land
North Central:
Upper Valley Museum – North Central Region Field Trip/Leavenworth: The Upper Valley Museum celebrates and promotes the diverse heritage of this region in a manner that preserves the past and opens a window to the future. The museum provides exhibits, community events, and programming including tours. Exhibits examine the development of the Upper Valley, the Bavarian theme village of Leavenworth, and the theme of a town festival or event.
http://www.uppervalleymuseum.org/index.htm
Wenatchee Valley Museum and Cultural Center – North Central Region Field Trip/Wenatchee: The Museum and Cultural Center enriches students' understanding of the world around them through guided or self-guided school group tours. These tours are designed to fit specific curriculum needs or interests. Popular themed tours include: pioneer life, apple industry, First People (Clovis and Native Americans) and Washington State history.
 http://www.wenatcheewa.gov/
Index.aspx?page=160
Northwest:
Anacortes History Museum – Northwest Region Field Trip/Anacortes:  The Anacortes Museum exists to preserve and interpret the history of Fidalgo and Guemes Islands and to nurture in the community an awareness and appreciation of its heritage. Tours of the Museum's Gallery and W.T. PRESTON sternwheeler are available to groups upon request.
[email protected]
Island County Historical Society Museum - Island County Field Trip/Coupeville: The Island County Historical Society Museum offers a variety of field trips programs for students and adults of all ages throughout the year. The museum's exhibits provide a stimulating environment for the study of Island County's rich and fascinating cultural and geological history. Museum staff can help create a unique learning experience, and offer the museum's many resources to each tour group. Many topics can be explored such as Mammoths and the Pleistocene Era of Island County, Native Americans on Whidbey Island, Archaeology, Sea Captains and Maritime History, or the Pioneers. In addition to exploring the museum, most tours include a tour of the historic Coupeville waterfront. Washington State Essential Academic Learning Requirments have been used to develop the museum's educational programs.
http://www.islandhistory.org/Education.htm
Skagit County Historical Museum – Northwest Region Field Trip/LaConner: The Skagit County Historical Museum offers a variety of educational opportunities, including school tours, for students starting with 2nd grade. Tours can also be adapted to meet grade level curriculum requirements of younger children or those with special needs. Students discover the history of Skagit County from Native American settlement to the turn of the century through the Know Your Skagit Tour program.
www.skagitcounty.net/Common/
Asp/Default.asp?d=Historical
Society&c=General&p=edmain.htm
Whatcom Museum of History and Art – Northwest Region Field Trip/Bellingham: The Whatcom Museum is a major resource for K-12 school classes, providing school presentations to approximately 25,000 students. The Museum offers interactive, tours of both temporary and permanent exhibitions led by staff and trained docents. Most programs can be arranged and reconfigured for any grade level, from pre-school through high school and college. Whatcom Museum education programs are aligned with local school district curriculum and the Washington State EALRS. .
http://www.whatcommuseum.org
/school-tours-and-workshops
Olympic Peninsula:
Aberdeen Museum of History – Olympic Peninsula Region Field Trip/Aberdeen: Hundreds of students come each year to The Aberdeen Museum which is housed in the Aberdeen Armory Building. Children are not charged to tour the Museum, although groups are asked to consider making an appropriate donation in support of the Museum's educational efforts.
http://www.aberdeen-museum.org/education.htm
Olympic National Park has a wealth of opportunities for teachers and scout and youth leaders.  Whether you're planning a park visit for your students, looking for lesson plans or other resources to use in your classroom or home, or hoping to have a ranger visit, we've got it.
http://www.nps.gov/olym/forteachers/
Suquamish Museum – Olympic Peninsula Region Field Trip/Suquamish: The Suquamish Museum provides exhibits that allow visitors of all age levels to understand the culture and history from the view of the First Peoples of the Puget Sound and the Suquamish Tribe, through the use of oral history, photography, artifacts, replication and audio/visual productions. Tour groups move through thematic areas that evoke the spirit of Old Man House, the Canoe Journey, pre-contact and contemporary Suquamish culture, and voices of the past and present Suquamish people.
http://www.suquamish.nsn.us/
Museum/tabid/59/Default.aspx
Puget Sound:
Fort Nisqually Historic Site – Puget Sound Region Field Trip/Tacoma: Fort Nisqually offers educational programs for all ages and group sizes.  Guided tours of the Living History Museum are offered to preschoolers from age 4 through third grade along with age-appropriate activities such as listening to stories, singing songs, and making a trade bead bracelet . Older students will participate in activities that introduce the history of Fort Nisqually as part of a global fur trade business and visit our other historic buildings where the focus is on daily life of Fort Nisqually's 19th century employees and their families.
http://www.metroparkstacoma.org/fort-tours/
Fred Oldfield Western Heritage Center and Art School offers visual displays, docent-led tours of the artifacts as well as the artwork, a visit with a genuine working artist, and hands-on learning in the areas of Art and Washington State History. The Center follows the life and art of artist Fred Oldfield. The son of Washington state pioneers, Fred spent most of his young life on the Yakima Indian Reservation working as a cowhand. Displays of antiques and artifacts at the Center show his life with the Indians, as a cowhand, as a farm worker, as well as early pioneer life as he knew it. The Center proudly presents one of the most extensive Native American basket and artifact collections in the Pacific Northwest. Activities for students have been designed to align with EALR requirements for Washington state History and feature the native cultures of Washington, the settlement of our pioneers and how they lived before and during the great depression, as well as the interaction of those pioneers with the native cultures during the early 1900's. For more information, contact 253-445-9175 or toll free at 1-866-445-9175 or email [email protected]
 http://www.fredoldfieldcenter.net/field_trip.shtml
Job Carr Cabin Museum – Puget Sound Region Field Trip/Tacoma: Tours of the Job Carr Cabin Museum and discussion of the exhibits are offered for elementary and middle school students and have been developed to align with most current Washington state academic standards. Additional activities available with pre-scheduling include learning about the artifacts in the cabin, reenactment of life on the Oregon Trail and how it relates to pioneers of this region, or sing-alongs to songs of the pioneer era. For further information or to schedule a field trip for your class, contact Education Program at 253-627-5405 on Wednesdays and Thursdays or email [email protected].   http://www.jobcarrmuseum.org/education_schools.html
Karshner Museum – The Karshner Museum allows children to see and hear history come to life. The museum offers a program geared for each grade level from kindergarten through fifth grade
http://www.karshnermuseum.org/programs.htm#gradelevels
Mount Rainier National Park offers educational programs at the Park Education Center and in the southwest corner of the park, from the Nisqually Entrance to Paradise. Standard program topics include geology, park history, ecology, and early exploration and settlement. Programs must be scheduled at least one month in advance. Park staff strives to provide a safe and positive experience for all students, including those with special needs. Field trips must be scheduled at least two months in advance
.http://www.nps.gov/mora/forteachers/planafieldtrip.htm
State Capitol – Puget Sound Region Field Trip/Olympia: The Washington State Capitol tour office accepts requests for tours throughout the year and offers a variety of standard tour options. The tours can be tailored to fit particular time constraints or the logistical needs of a class. The Legislative Building and the Governor's Mansion are two of the most popular destinations. There is also the Civic Education Tour (for 4th grade and up) and the Legislative Process Tour (for high school students) that focuses on the three branches of government and includes information on the Legislative Building's function, operation, symbolism and history. Also included in this tour is a visit to the Temple of Justice where classes participate in a mock court hearing.
 http://des.wa.gov/services/facilities
/CapitolCampus/Pages/GuidedTour.aspx
Washington State History Museum - Puget Sound Region Field Trip/ Tacoma:  Exhibits at the museum are interactive and self-paced. There are not guided tours of the museum, but each class receives an orientation to the galleries, along with information about the featured exhibits on view during the scheduled visit. Students will have the opportunity to view artifacts up close. Volunteer gallery interpreters will help students in their search for information, answer questions about the museum, and provide insight about objects and exhibits.
http://www.washingtonhistory.org/education/fieldtrips/
South Central:
Yakama Nation Museum and Cultural Heritage Center – South Central Region Field Trip/Toppenish: The Yakama Nation Museum welcome visitors of all ages. There are self-guided tours as well as guided tours.  With each option, there are educational materials to promote a positive learning experience. With the guided tour, a museum representative will accompany the group and interpret the historical exhibits and answer questions. To ensure the most beneficial educational benefits, school tours are recommended for ages 4th grade and above.
http://www.yakamamuseum.com/
showpage.php?pageid=bf18cf78
Yakima Valley Museum – South Central Region Field Trip/Yakima: A guided tour of the museum, with a docent, highlights the history of the Yakima Valley. Following the tour, each class will visit the Children's Underground for a hands-on experience with history. Allow approximately 1 hour. The tour season at the Yakima Valley Museum runs from September 20 through May 30. Summer programs, which include scavenger hunts and workshops in the Children's Discovery Garden, will be scheduled during the last two weeks of June and during the month of July.
http://www.yakamamuseum.com
/museum-group-tour.php
Southwest:
Cowlitz County Historical Museum – Southwest Region Field Trip/Kelso: Guided tours of the Museum's Main Gallery and changing exhibits are available to student groups from pre-school age through college, after school programs, day cares, organizations, and families. Tours may include focusing on a particular topic with enrichment activities, games, or supplementary presentations. Before, during, or after a visit, students are encouraged to think creatively: giving direction to young minds as a compass to early explorers. 
http://www.co.cowlitz.wa.us
/museum/tours.html
Mount St. Helen's Visitor Center/Ape Caves – Southwest Region Field Trip/Castle Rock: Mount St. Helens National Volcanic Monument was established, in part, to promote environmental and science education. Each year, over 10,000 students travel to Mount St. Helens to see the dramatic effects of the 1980 volcanic eruption, learn about the region's early human history and the eruptive history of volcanoes in the Cascade Mountain Range, and analyze how plants and animals have responded.  Ranger-guided interpretive programs for school groups are available on an advanced reservation basis at the Johnston Ridge Observatory and Ape Cave. All programs are generally geared towards Middle School Students.
http://www.fs.fed.us/gpnf/
mshnvm/education/teachers-corner
Fort Vancouver National Historic Site – Southwest Region Field Trip/Vancouver :   Education programs at Fort Vancouver include tours for large and small groups, an audio tour, a self-guided tour, an overnight program, and several hands-on programs. Last year, the park served nearly 21,000 students from Oregon and Washington schools. Their visits provided firsthand awareness of life at the first permanent European-American settlement in the Pacific Northwest. Tour themes include the fur trade, the role of the US military, the role of archaeology in the preservation and understanding of regional history, and the importance of the Hudson's Bay Company on the exploration, settlement, and development of the Pacific Northwest.
http://www.nps.gov/fova/forteachers
/reserving-an-education-program.htm
Columbia Basin:
Sacajawea State Park Interpretive Center - School tours are offered at the interpretive center and a traveling trunk is available for classroom use. http://parks.state.wa.us/DocumentCenter/Home/View/918
Hanford Reach Interpretive Center - School programs explore the history and environment of the Hanford Reach. 
http://visitthereach.org/education/
Northeast:
Northwest Museum of Arts and Culture – There are several choices for field trip topics, including women's suffrage and the Plateau Indians. This multidisciplinary program promotes the goals of HB 1495 for teaching Washington state tribal history and culture and promoting cultural sensitivity.
http://northwestmuseum.org/learn/school-visits
Southeast:
Fort Walla Walla Museum – Admission-free docent-led school tours in 2010 are available by contacting the Museum at 509.525.7703 or emailing
[email protected]
http://www.fortwallawallamuseum.org
/school-tours.html