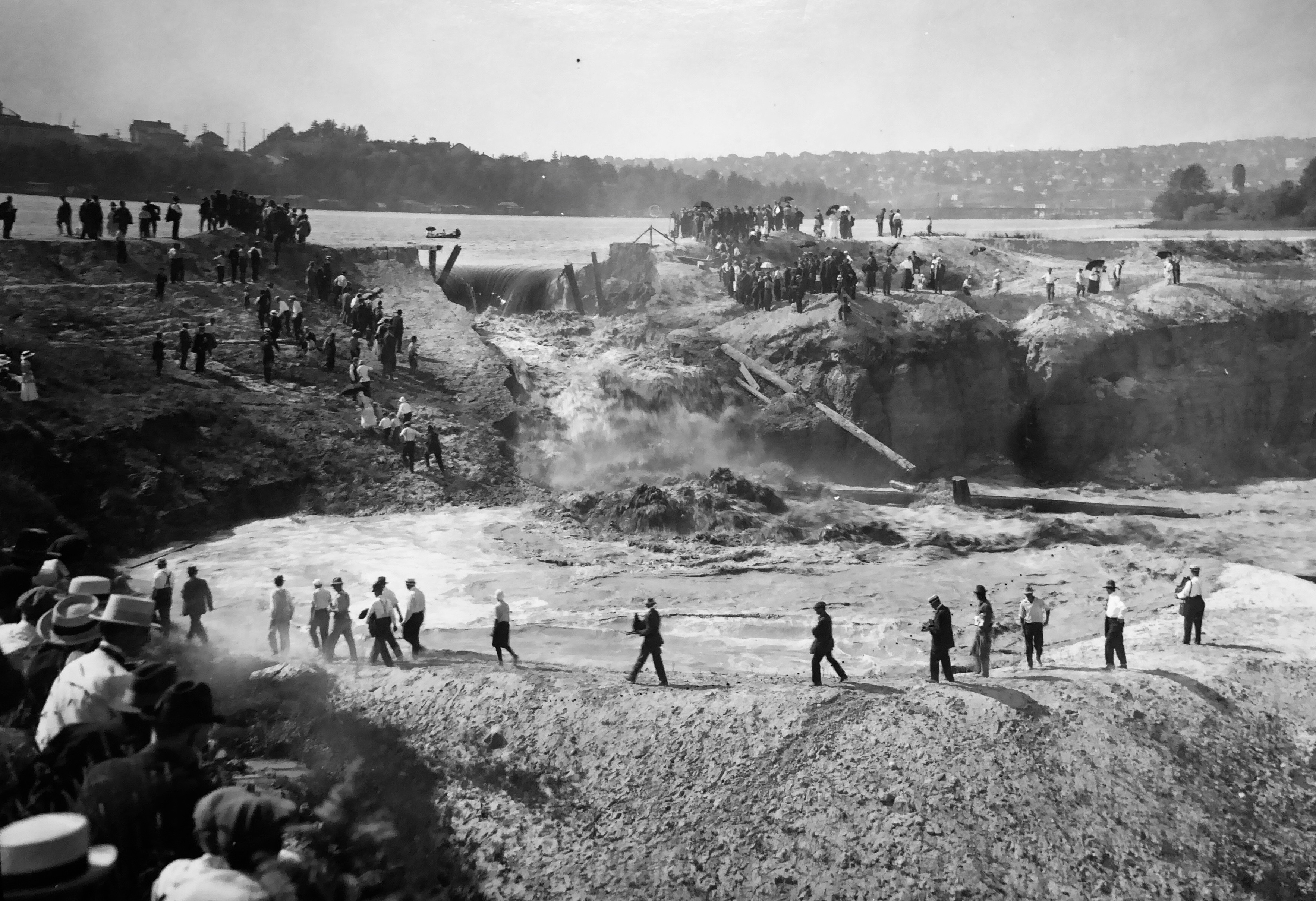 Montlake Cut Cofferdam Burst, 1916. Courtesy MOHAI, 1983.10.10325. 
The Change Over Time curriculum was developed by the Eastside Heritage Center in collaboration with the Bellevue School District to guide students in an exploration of the impacts of the lowering of Lake Washington in 1916, when the Lake Washington Ship Canal was opened. The activities introduce students to the study of maps and environmental history, and focus on specific people who lived in various places around Lake Washington, whose lives were affected by the lowering of the lake.
Each person's set of materials includes a brief biography, primary source documents, historic photographs, a map showing the shoreline before and after the lake was lowered, and suggested questions and activities, aimed at 7th-grade students. 
A complete printed set of the curriculum materials is available to check out from the Eastside Heritage Center. For more information contact them at [email protected]
For a HistoryLink article about the history of the Lake Washington Ship Canal, click here.
For more HistoryLink articles about the ship canal, click here.
---
Downloads
Teacher's Guide to Primary Source Documents 
Complete Set of Primary Source Documents
Download a complete set of biography materials.
Individual Biography Materials:
John Anderson
A shipyard owner in Houghton.
Download student materials 
Ferry Fay Burrows
Fishering resort operator on the Black River
Download student materials 
William Crooker
Hewitt-Lea Mill employee
Download student materials
Walter Curtis
Lake Washington boatbuilder and operator 
Download student materials 
Fred J. Eitel
Real estate investor, founder of Eitel Land Co., co-founder of Bellevue Land Co.
Download student materials 
Bert Farrar
Real estate investor, Kirkland Development Company owner
Download student materials 
Alicia Hanratty Forbes
Houghton resident, ran the snack counter at the Jaunita ferry dock 
Download student materials
William H. Hewitt
Lumber company owner with family owned mills in Seattle, Everett and Wilburton Hill
Download student materials 
Climie Hill
Engineer, co-founder of Hill Hydraulic Machinery Co., Bellevue real estate investor
Download student materials
Jennie Moses
Married Duwamish tribe member, lived on the shores of the Black River in Renton
Download student materials 
Alfred J. Pritchard
Owned small island in Lake Washington which became Pritchard's island
Download student materials 
William Schupp
Owner of both North Pacific Sea Products & American Pacific Whaling Co.,
Download student materials
Frederick A. Siegel
Ship captain of the snagboat SKAGIT, and the SWINOMISH
Download student materials