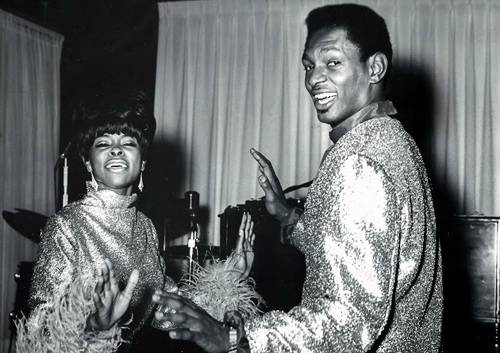 Farewell, Dave Holden
We at HistoryLink were saddened last week by the death of jazz musician Dave Holden, whose keyboard and vocal talents took him around the country before he returned home to the Pacific Northwest. As well as being an accomplished musician, Holden was also the father of HistoryLink historian Linda Holden Givens.
Dave Holden grew up in a house full of music and musicians. His father, Oscar Holden -- the "Patriarch of Seattle Jazz" -- moved to Seattle in 1923, where he married his wife, Leala. They had seven children during the Great Depression, of which Dave was the fourth. Their family home was located in the Central Area across the street from Washington Hall, where Oscar played many performances. One of their neighbors was Bruce Lee, who later became a martial artist and popular actor.
While attending Garfield High School, Dave played basketball and was also a drum major for the school band. After his mother died in 1951, Holden moved in with his sister Grace Holden and soon began playing keyboard with the Billy Tolles Trio in various clubs around the region. In 1960  his brother Ron Holden had a big hit with the song "Love You So," and Dave joined him on the Chitlin' Circuit, touring venues from the Apollo in New York, down the coast to Florida, then over to Houston and Dallas.
When he returned to Seattle, he began performing with musicians like Gerald Frank and Virginia Jackson (Vee Jay, shown above), as well starting his own band and making records at local recording studios. But he still moved around a lot, playing up and down the West Coast and internationally before returning home once again to Seattle. In recent years his health began to decline, and he died peacefully at home with his wife, Angela, by his side.
A Tale of Two Cities
Seventy years ago this week, the neighboring cities of Bellevue and Clyde Hill, both incorporated on March 31, 1953. Months earlier, Clyde Hill had been included in Bellevue's petition to incorporate, and while the smaller community was split on whether or not to join the city next door, the more vocal faction got out the vote to remain autonomous. A few years later Bellevue again invited its neighbor to join and it again refused, although Clyde Hill does contract with Bellevue for water, sewer, fire, and emergency services.
Both communities were settled in the late 1800s, and by the turn of the century were home to numerous berry and vegetable farms. In the 1910s, Bellevue farmers advocated for Lake Washington's first auto ferry to transport their produce to Seattle. It also attracted more commuters to the Eastside, as did the 1940 opening of the Lake Washington Floating Bridge. By the end of World War II, both communities had grown considerably.
In 1949 the tolls came off the bridge, and Bellevue was quickly becoming an eastside business hub, thanks in large part to the opening of the region's first suburban shopping center. By the time Bellevue and Clyde Hill incorporated in 1953, both cities were attracting thousands of new homeowners looking to raise families away from the hustle and bustle of Seattle. Over time, Bellevue grew to become the state's fifth largest city, while Clyde Hill has remained a small but prosperous bedroom community.
And while Bellevue is known around the world as the headquarters for many successful tech companies (even Microsoft was based there before moving to nearby Redmond), Clyde Hill has had its own brush with fame. In 1975, the city's mayoral election ended in a 576-576 tie. In the end, the winner was decided with a coin flip, and the story captivated the nation.