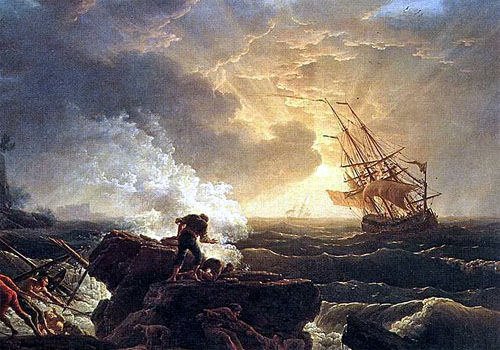 Wild Waves
This week HistoryLink.org sets sail with a salty serving of sea stories sure to shiver your timbers. We begin on December 11, 1851, aboard the schooner Robert Bruce when it was set aflame by the ship's cook after he dosed the crew with laudanum. Fortunately, a Willapa Bay logger and his Indian helpers spotted the burning vessel, rescued the oystermen aboard, and brought them ashore, where the sailors later settled what became Bruceport. Today, the Willapa Light Station guides the way for any other addled mariners in the vicinity.
Exactly five years later, in Port Townsend, William Cadmer allegedly committed mutiny and assault on the Lizzie Jarvis, a cargo ship that was tied up on shore. Supposedly, Cadmer attacked a fellow crewman with a handspike. History doesn't record whether Cadmer was found guilty, but court records do detail the costs of bringing him to trial.
Finally, we leave you with a shipborne mystery that occurred on the high seas. On December 12, 1919, Helen Louise Ferera -- Seattle's star Hawaiian guitarist -- disappeared aboard the SS President enroute from Los Angeles to Seattle. Conflicting testimony describes her disappearance during either calm waters or windy weather. All that is known for sure is that she boarded the vessel and was never heard from again.
Peaceful Ports
Two of Washington's 75 public ports are celebrating noteworthy anniversaries this week. The first is the Port of Waterman, which was formed 100 years ago on December 8, 1923. Located northeast of Port Orchard, the port is one of the smallest in the state, but an excellent example of some of the roles envisioned for public ports when the Port District Act was passed in 1911, including giving area residents who do not own waterfront property access to the shoreline.
The second port worth noting this week is the Port of Edmonds, which was created by popular vote 75 years ago, on December 7, 1948. When the port began, the first order of business was to build a new ferry dock, which was leased to the state in 1951. Today the Port of Edmonds is a popular destination for pleasure boaters, as well as those on the shore who just want to admire the scenic views of Puget Sound and the Olympic Mountains.