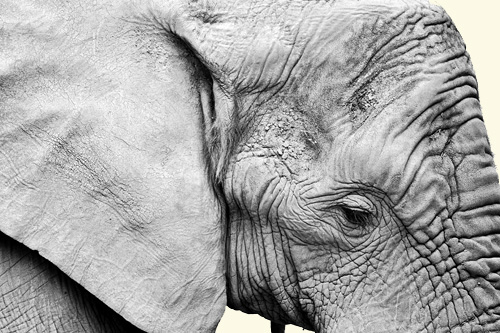 Elephantine Sensation
One hundred years ago this week, on May 15, 1922, Sedro Woolley residents were stunned to find an elephant rampaging through their small Skagit County community. On tour with a traveling circus, Tusko the elephant got loose, causing all sorts of mayhem before his capture. Years later when a sideshow huckster brought Tusko to Seattle, Mayor John Dore, outraged at the animal's treatment, confiscated him. The pachyderm spent a few peaceful months at Woodland Park Zoo before passing away in 1933.
Tusko's misadventures in Sedro Woolley weren't the only time Washington has dealt with elephants on the loose. In 1909 Queenie the elephant ran amok in White City, a short-lived amusement park located in Seattle's Madison Park neighborhood. And in May 1958 a trailer bearing four of the creatures overturned on its way from Woodland Park Zoo, sending the pachyderms on a romp through the Phinney neighborhood.
The thought of rogue elephants running around Washington may seem odd to us now, but their distant cousins actually roamed the region eons ago. Mastodon tusks have been unearthed in Sequim, and the remains of Ice Age mammoths have been discovered near Spokane and Yakima. These behemoths may be gone, but in 1998 the extinct Columbian Mammoth was named the official state fossil.
Before Refrigeration
One hundred and fifty years ago this week, on May 13, 1872, Seattle's first imported ice – shipped in from Nevada via San Francisco – went on sale for three cents a pound. Three hundred tons of this "great luxury" were stored on the Yesler Wharf in an icehouse built with double walls and insulated with sawdust from Henry Yesler's mill. 
Within a week, ice cream was sold for the first time in King County, and by the end of the month two Seattle "ice cream saloons" had opened for business. It took two years to sell out the initial shipment, and by the 1880s an ice-making plant was supplying most of the city's needs. Everything was cool until the plant burned down in the Great Fire of 1889.
In 1892 the Diamond Ice & Storage Company incorporated and grew to become the dominant ice-seller in the city. For years, icemen delivered fresh ice from the back of horse-drawn wagons to houses and businesses throughout the city. After electric refrigerators became available in the early 1920s, demand began to lessen, and the company permanently ceased production of ice for sale in 1949.