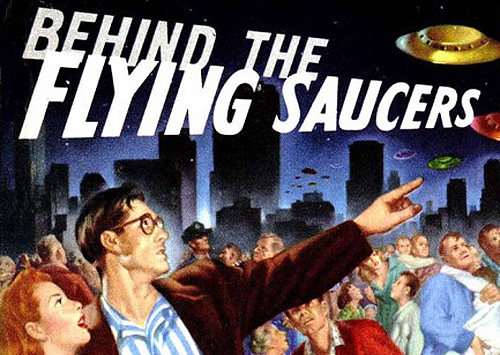 Strange Fascination
Seventy-five years ago this week, on June 24, 1947, the modern phenomenon of unidentified flying objects was born near Mount Rainier when pilot Kenneth Arnold espied nine shiny objects skimming the crests of the Cascades "like a saucer would if you skipped it across the water." He watched them for approximately two minutes until they disappeared over Oregon. News of Arnold's encounter made national headlines, and soon everybody was seeing flying saucers.
Two weeks later, the Seattle Post-Intelligencer published the first purported photo of a mystery disk, which was snapped as the object flew over Lake City. Then, on July 8, the U.S. Army reported that it had recovered fragments of a crashed flying disc near Roswell, New Mexico. It retracted the story the next day, claiming that it was the wreckage of a weather balloon, an explanation that left many unconvinced.
Amid mounting hysteria, two Tacoma log salvagers approached Amazing Stories magazine with their account of a "giant flying donut" that had supposedly exploded over Maury Island on June 21, 1947. They said a mysterious "man in a black suit" had spoiled their photographs, but they had slag-like fragments to prove their story. The army dispatched two investigators. They died in a plane crash while returning to their base with a box of "evidence," planting the seeds for all the conspiracy theories to come.
Pride Celebration
During the last week of June 1974, local lesbians and gays celebrated Seattle's first Gay Pride Week, which included the opening of the Gay Community Center, a picnic in Occidental Park, and a "Gay-In" at Seattle Center. The celebration has grown over the years -- it was sanctioned by the city in 1977 -- and this year features the return of Pridefest, the largest free Pride Festival in the country.
Members of sexual minorities have played leading roles in Seattle history virtually since the town's founding. Early pioneers either expressed little concern for -- or turned a blind eye toward -- same-sex relationships, but after Washington's law criminalizing sodomy was enacted in 1893, the gay community went underground. Nevertheless, by the 1930s establishments like the Casino Pool Room catered to gay men. After World War II, the Garden of Allah became a popular gay cabaret, and in 1950 local lesbians began meeting discreetly at The Hub.
At times subjected to police harassment, gay, lesbian, and trans people did not emerge from the closet in large numbers until after New York City's famous Stonewall riots in 1969. That same year, Dorian House opened in Seattle to provide gay counseling, and soon Gay Liberation activists increased their advocacy for more tolerance and less discrimination against the LGBTQ+ community. In 1977, Catholic Archbishop Raymond Hunthausen publicly defended the rights of gays and lesbians, and in 1987 Cal Anderson became Washington's first openly gay legislator.
Seattle expanded its anti-discrimination law in the 1970s to include sexual orientation, but this became the target of a repeal campaign in 1978, which voters decisively rejected. Civil rights were extended to gays and lesbians statewide in 2006, and broadened again in 2009. And in 2012 -- the same year Macklemore and Ryan Davis's song "Same Love" climbed the charts -- Washington became one of the first three states to enact same-sex marriage by a vote of the people.